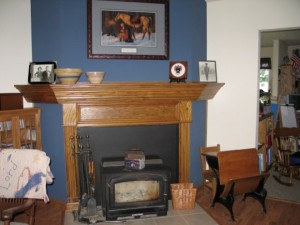 My living room and school room display many "patriotic"type decorations year round.  We have a lovely print of Washington's Prayer at Valley Forge above our mantle.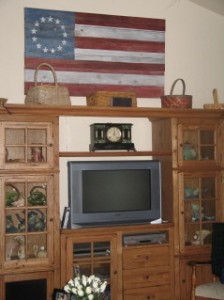 My handsome husband made the beautiful old-fashioned flag that hangs over our entertainment center out of old, backyard fence slats.
I do, however, enjoy decorating the outside of my home for the summer holiday period.  About the third week in May, I love to hang out our buntings and ribbons.  I leave these up until just after the Fourth of July.   We live out in the country, on a fairly busy road, and I hope that my home brings a smile to those who pass by.   The neighbor across the road said that she likes looking across and seeing the buntings fluttering in the breeze.  And the crusty old horse rancher around the corner told my daughter that they were "rosy".  LOL!!!  Here are a few pictures of my house, as well as some links to some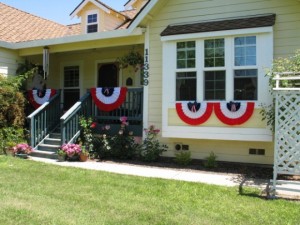 beautifully decorated homes on other blogs.
The front of my house, and…..
The wreath on my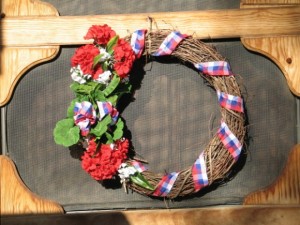 front door (ala Mrs. Wilt at the Sparrow's Nest)
(I took this picture crooked, the front screen door is actually straight! LOL )
Mrs. Wilt has some other great patriotic holiday decorating ideas here and here . She also has been doing some great patriotic posts this week.
Also, don't miss the beautiful home of Susan at A Place Called Home