One of my favorite things is my hotel key cabinet.  It's a favorite thing for two reasons – one I just love it in its own right;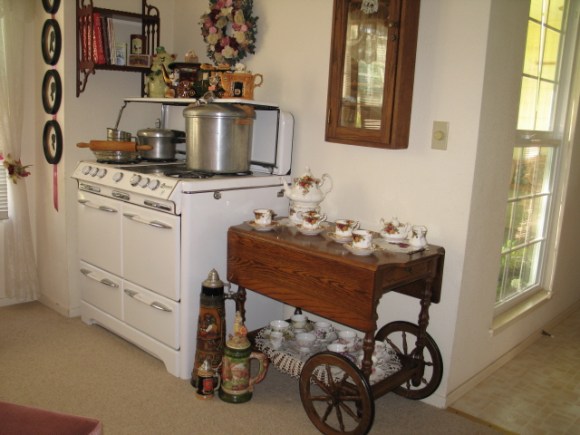 and secondly, it holds several very small things which are precious to me. This is a picture of it on the wall in my parlor.  My parlor was actually meant to be a formal dining room.  It is too small for my family, though, so I converted this room to my parlor a few years ago.  But back to the key cabinet!
This key cabinet was given to me by Copper's Dad and his wife (commonly known in my house as Paw Paw and Grandma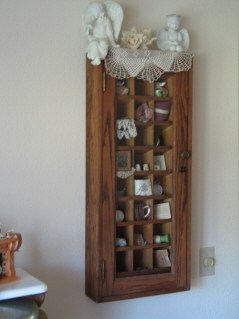 Meg).  The cabinet began its life as a key cabinet in a hotel in Santa Cruz, California.  Meg purchased it at a flea market, and it resided on their hearth for many years.  I always admired it!   When Meg brought the cabinet to me, I knew it had to hang in my parlor, but I couldn't quite decide where.  My lovely daughter, Corin, helped me to find just the perfect spot for it!
I have several things in the key case that are VERY precious to me, some that just were too tiny to display anywhere else, and some that are just, almost, silly!  I'll let you decide which is which.  Let's explore row by row….
(Thank you to my dear Danielle for helping me with all of these close-ups!
)
On the top row, in the two end cubbies, are two little hand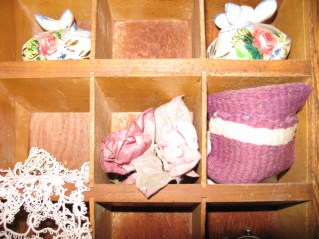 made ceramic dishes made by an acquaintance of my mom's in Missouri.     I don't remember ever seeing these at my mom's house, but I found them when we emptied my folks' house after they had both passed away.  In the next row the left box holds a lovely little tatted doily, the center some pink silk roses that just fit and the right box holds a woven piece that my mother did as a little girl.
In the next picture, the thimbles in the left box were my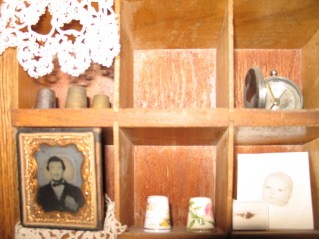 grandmother's and my mom's.  The compass on the right, as well as the gentleman in the deguerrotype on the left, were in the cabinet when I received it and I let them keep their home.
The ceramic thimbles were given to me as gifts years ago by my mom.  The last box is my hospital picture (circa 1957!) and in the box is a tiny baby ring that my Uncle Bob (my mom's only brother) sent when I was born.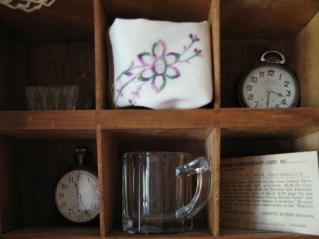 The top left box here has a small crystal salt cellar and spoon in it.  The middle is the beautiful embroidered hankie that I received recently from Susan.  The silver pocket watch on the top must have belonged to the man in the deguerrotype above because it came with the cabinet!  The gold pocket watch in the left cubby was my Granddad's.  The little glass pitcher was one my mom played with as a girl.  The right hand box has Granddad's Farm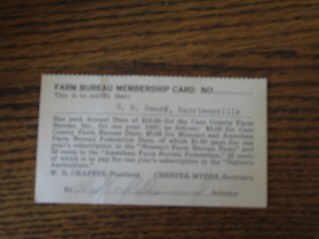 Bureau membership card for the year 1947 (the annual dues were $10 per year!)  My granddad was a dairyman and a corn farmer.  If you look closely you can make out his name E.R. Beard, Harrisonville, MO.
These last two rows hold some fun items!  The first box on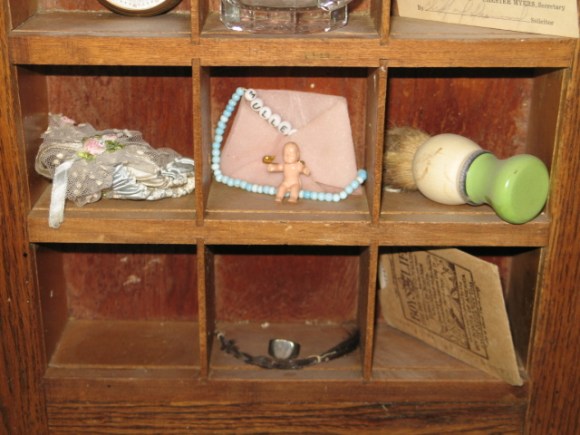 the left is my mother-in-love's satin and lace garter from her wedding.  Copper and I were both surprised to find it tucked away with her wedding cake topper when we cleaned out her home after her passing 17 months ago.  (Her cake topper is in my china cabinet – another favorite thing to share another day!)   The center box is a pink plastic diaper and tiny baby from my mom's baby shower cake, along with the beaded bracelet babies wore in the hospital then.  My maiden name is spelled out on the white beads.  The shaving brush was my granddad's.  The lock of braided hair (which grosses my daughters out!!) and the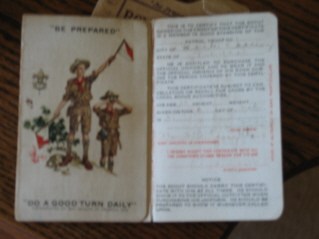 ring belonged to my great grandmother.  The very last item is my Uncle Bob's boy scout membership card and folder for the year 1932.  My Uncle Bob was a sweet man who saved all sorts of bits from his youth.  So much fun!