My Granddad's smoking stand.  It's a strange item to be
considered a favorite, I'm sure.  I suppose it's a favorite of mine for sentimental reasons, though I do admire the inlaid woodwork on it, as well as the functionality.  I do love it, though, and it's a favorite of mine because it is one of the very few things that belonged to my Granddad.  I have things of my Grandmother's that were passed down through my mom to me, but only two things I can think of were Granddad's.  The smoking stand is one.
Ironically, my Granddad died of emphysema when I was only 4 years old.  I really have no memory of him at all.  Years and years ago, my folks had all their old super-8 home movies put onto video tape.  Of course there was no audio, just some cheesy music the company put on with the old movies.  Still, while watching one of these videos one evening with my folks, the tears welled up in my eyes and spilled over until I was just sobbing on the couch.
You see, the movie we were watching was of the Christmas just before my 4th birthday.   We had driven to Missouri to spend
Christmas with my grandparents.  My grandparents had bought me a children's table and chair set, and my folks had given me a Shirley Temple tea set.  The movie was of my Granddad, long legs all folded up before him, seated on one of my little chairs drinking cup after cup after cup of the imaginary tea I was serving him from my tea set.  Oh!  How I wish I could have heard the words he was saying to me!!  He was so delighted with his curly-headed only grandchild!!  Watching the video that night, I knew that I had been loved and cherished by my grandfather.
The smoking stand is quite compact and efficient.  There are two ashtrays on stands, on either side, that can be pulled out and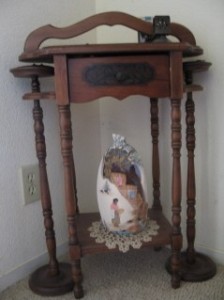 taken to a location away from the stand.  There is a large ash tray on the smoking stand itself.  The drawer, which has a beautiful inlaid wood design, was used, I suppose for extra matches, or, perhaps, tobacco.  If you look carefully, you can see the last pack of Old Gold cigarettes my Granddad owned still tucked, unopened, into their holder on the stand.  The holder just to the front is for a small box of wooden matches. (I need to find an old box to put in there!)
The smoking stand now resides in the corner of the hallway to my childrens' rooms, with family pictures hanging on the walls above and beside it.  The pottery I have displayed on the bottom shelf is actually a Navajo-made nightlight we bought on a trip through the southwest a few years back.  Granddad's smoking stand will always have a place in my home.