I spent some time today cutting apart and ironing stamped designs on to some dishtowels for Corin. This is a project I should have done years ago, but the designs are stamped on, the embroidery floss is out, and I am determined to begin this evening.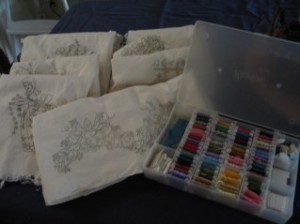 If you're up for another sentimental story after reading about my Granddad's Smoking Stand, then keep reading. 
My mom was very proficient when it came to stamped embroidered pieces.  My girls, and I, all have beautiful embroidered tablecloths that she made for us.  I am still using dishtowels that she embroidered for me when I was first married, and I  have several more dish towels, along with some pillowcases and sheets, in my hope chest still!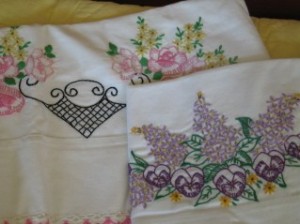 In fact (and I'm chasing a rabbit here), my mom even taught my dad how to embroider quite early in their marriage while he was laid up in the hospital with a broken hip following a horrific accident as a semi-truck driver.  As a result, I have these two tablecloths that my dad embroidered, years before I was born, while he was in the hospital.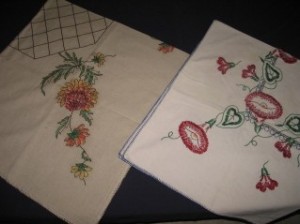 In 1992, after battling cancer and dealing with radiation sickness from the treatments for many months, my Mom was declared cancer free.  She was still quite weak, but she and my dad ventured to Wal-Mart one evening.  She wanted to buy enough muslin to embroider tea towels for both Corin and Danielle.  She was not feeling well that evening and the lady in the crafts department was especially good-natured and actually cut all 16 yards of muslin into individual yard pieces for my mom.  What a sweetie she must have been!!
Mom began feeling worse and worse and, within a few weeks, it was discovered that not only was the cancer back, but that it had spread throughout her body.  Needless to say, the dishtowels were forgotten.  But not for long.
Mom passed away in early January of 1993.  At Corin's birthday party in April of that year, my Dad presented her with a box and inside were the cut pieces of muslin that Mom had intended to embroider for her.  We lost Dad in August of the same year, and I found Dani's cut box of muslin towels when we were cleaning out my folks'  house. I made sure that on Dani's birthday, in September of that year, that she received her box of unfinished dishtowels as well.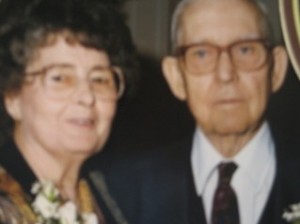 The years raced by.  Corin grew up and to a wonderful young man.  To my shame, I don't even remember when it was that I took Corin to Wal-Mart and had her pick out the Aunt Martha's transfers so that I could finish up her dishtowels for her.  Corin, please forgive me for the delay!  I'll post pictures of the towels when they're done