One of the many skills that my daughter, Danielle, has taught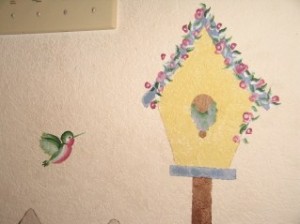 herself is the art of One Stroke Painting.  I have benefited greatly from her self-taught skills.
We had not lived in our present house long when Dani first started learning to paint.  Since my laundry room was way down the priority list for fixing our home up, we allowed Dani to practice her techniques.  She knew that I wanted to have floral swags and other such painted items around my home.  Her practice wall was quite the conversation piece!!
Her skills improved and it was finally time for her to put her skills to work!  We painted the laundry room walls and the stage was set.
Here are some pictures of my laundry room now!  It's rather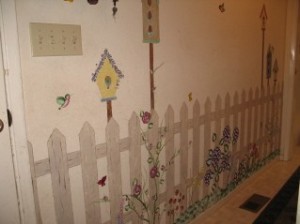 long and narrow, so getting good pictures was hard!  I have a garden motif, with a picket fence, birdhouses and lots of flowers, birds and bugs!!   I stenciled the outlines of the fence and the birdhouses, but all the detail work was done by Dani!!  I LOVE it!
I have a little bird's nest, with eggs in it, over the door to the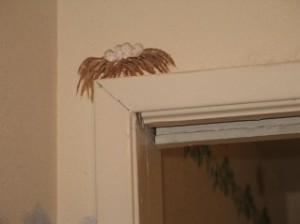 back bathroom.
This little mouse peeks up at me from behind my laundry room waste basket!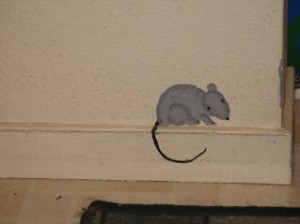 She even painted some lovely flowers on a vintage
washboard I pulled out of someone's garbage  discard pile!  (okay, it's true!  I'm a pile picker!!)
I also have these lovely dark pink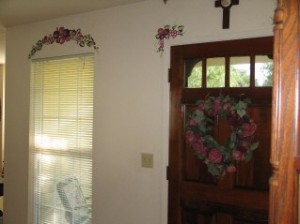 rose swags over my front door and entryway windows!!
Though I don't live in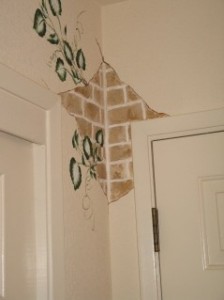 an old house, I do have the faux look of cracked plaster over bricks with ivy growing through in my back hallway.
Dani has used her skills to paint the front of a drop-front desk for her Paw Paw and Grandma Meg, and they are planning on her doing some work on their shutters this fall.  Her sister is hoping to have her use her skills in my only (so far) Grand-daughter's room soon.  I love having such an artist in my home!!!