Mondays are Copper's day off.  I thought I'd show you how he spent a good part of his day today.
He hung this sign, which was a gift from our neighbor to
Dani, over the entrance from my living room to my school room.
He hung this sign on the school room side of that same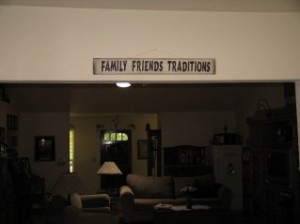 entrance.
He hung these shelves up in my new sewing nook!!  Since his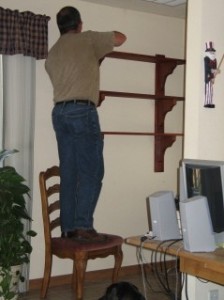 grandfather was a carpenter, they were built to match the stud placement in the walls; so he was able to anchor them securely.
Most of my sewing and craft supplies are still stashed stuffed stored in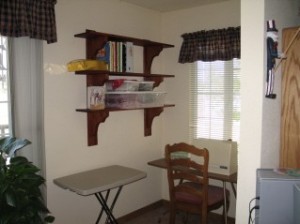 the armoire of my bedroom.  I'll need to buy a few more Sterilite tubs to organize things as I can to bring them out here.  Dani's been helping me bring out my sewing and crafts books.
What a great guy to spend his day off making me happy!!!