Just wanted to check in and say "hi" and "Happy 4th of July" to anyone who might stop by.  My dear one and I did the bi-weekly big shop in town today.  Since we shop every other Monday come rain, shine or holiday, we are quite often taken by surprise by the HUGE holiday and/or pre-holiday crowds!  With my husband's help, though, we conquered the stores and came home with provisions for the next two weeks.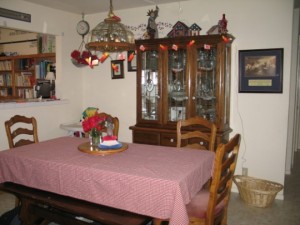 Our lovely daughter surprised us by preparing a wonderful summer holiday dinner – grilled hamburgers on homemade rolls, potato salad and cantaloupe-blueberry salad.  She also hung up our very cheesy 4th of July lights and paperfold centerpiece.  I've had these silly things for years and not used them, but they sure are fun – cheesy as they are! (They don't show up really well in the picture, but they're red firecrackers and American flags!)
I'll be posting again after the holiday. Enjoy your holiday!