(edited to add an additional link on 7/31/06)
As my daughter Corin said last night, "I went, I heard, I bought", to which I'll add "I tired!!".  We had a delightful time at the homeschool conference this weekend.  The conference was held in a city about an hour's drive from my home, and one of the best parts was the drive down and back each day visiting with my eldest daughter.  Sweet!
There were many very fine speakers featured, but I will just give a highlight or two about those I heard.  If you get a chance to hear any of these folks, I would recommend them all.
Marilee Coots from Help With Learning .  Mrs. Coots spoke about turning a struggling learner into a Super Learner!!  Good talk.  I'm setting up an appointment this week for the seven year old to have a comprehensive eye exam.
Stephen & Kerry Beck were fabulous.  I heard him speak on Christians reclaiming their culture and  later on revisionist history.  Both were very motivating and thought provoking.   The men in attendance seemed to really be encouraged by him.   His wife, Kerry, gave a fabulous workshop on the "Thomas Jefferson Education" and inpsired us all to raise leaders and not followers.
Ginger Plowman, author of Don't Make Me Count to Three did a workshop on parenting younger children.  She's a charming, southern woman and was very entertaining.  Her children are still young, but I found her advice for parenting pre-schoolers and very young children to be quite sound.
Diana Waring of History Alive!  was super!!!  Funny, entertaining and yet had us sitting on the edges of our seats as she gave us "History on the Scenic Route".  I came away from her workshop knowing that we are on the right track using living books to inspire our children and knowing that if we chase a rabbit or two and spend more time than planned on a specific era, that it's no big deal.  Keeping our children's interest and keeping them inspired is the important point!
I met some new friends, was reacquainted with a dear, old friend, and spent some time chatting with some friends from church.  Corin's in-loves (In-laws) were manning the booth for our statewide homeschool organization and I spent many happy breaks visiting with them there.
And I shopped!  Several of my favorite vendors were there, and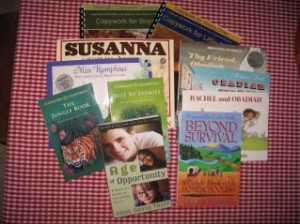 here is what I bought:
Unabridged, unedited versions of Just So Stories and The Jungle Book, by Rudyard Kipling.
Miss Rumphius, by Barbara Cooney.
Susanna of the Alamo, A True Story, by John Jakes.
Rachel and Obadiah, Obadiah the Bold, and Thy Friend, Obadiah, by Brinton Turkle.
Copywork for Little Boys and Copywork for Boys, compiled and arranged by Sandi Queen.
Age of Opportunity, a Biblical Guide to Parenting Teens, by Paul David Tripp.
Beyond Survival, a Guide to Abundant-Life Homeschooling, by Diana Waring.
These didn't make the picture because the 12 year old was reading them!
Sir Cumference and the Great Knight of Angleland and Sir Cumference and the Sword in the Cone, by Cindy Neuschwander.
Math Curse, by Jon Scieszka & Lane Smith.