A few years ago, the Lord prompted me to begin building our home library.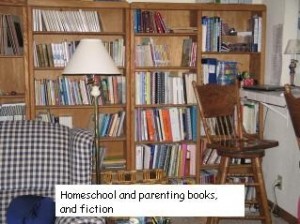 I now consider our home library our Heritage Library.  My vision is to establish a very fine, private library that will be available not only to my children, but to my children's children.  I am spurred on by our biblical calling to be the sole educators of our children in Deuteronomy 6: 4 – 9.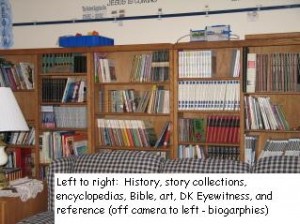 In order to provide a solid, biblical and outstanding education for my children, I have searched catalogues, read books and attended seminars.  I've asked questions of the "experts" and shared curriculum ideas with other homeschooling moms.  My search has been a long one, as we are just finishing our 17th year of homeschooling.  For the last several years, we have educated, primarily, using living books; and it is our intention to complete our children's education using this method.
A few years ago, when my now 12 year old became an independent reader, I visited our local public library to introduce him to some of the wonderful books that his older sisters had enjoyed.  They weren't there.  I searched the inter-library data base with no success.  The books were either in the system, but non-circlulating, or had been purged from the system!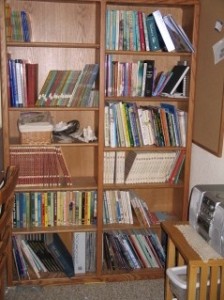 I also found that the delightful nature stories written by Olive L. Earle or Margaret Waring Buck were becoming increasingly difficult to find at the library.  Classic children's stories, such as those by Rudyard Kipling, Mary Norton or Thornton Burgess, were no longer available in unabridged formats.  Non-fiction books in the juvenile section were now "dumbed down", while the non-fiction books in the adult sections were often not appropriate for my young son.  The public library shelves were becoming filled with revisionist history and the latest and greatest pop fiction.  Neither would find a place in our home.  What was a homeschooling mom to do?
I began buying new and used books for my home!  Since we were no longer spending our money on packaged curricula, I simply diverted those funds to buying living books!   I started with the books I couldn't find in the library system and just kept going!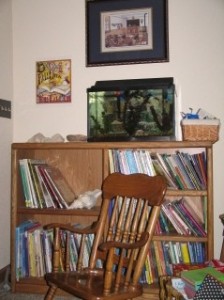 (I have, since that time, found many wonderful sources for buying living books.  I'll be posting more on what and where to buy another time.)
In the last few years, we have added several bookcases to our school room as our library has grown.  It is still quite small, as you can see from the pictures, but it is still growing!  We have lots of wonderful picture books, shelves of great biographies, a bookcase and a half of living history books for beginning readers to adults.  We have a growing collection of living books on art and collections of the works of many famous artists.  A double bookcase holds our collection of science, nature and geography books.  A couple of sets of encyclopedias.  Lots of fiction.  Homeschooling books, child training books, how-to books, the list goes on.  We have grown a nice collection and several new volumes are added every month as funds are available!   We have books in our living room and the children's personal collections are in their rooms.  Copper has already been commissioned to build a custom bookcase on the back wall of the school room, hopefully, this autumn.
Building a Heritage Library for your family is a rewarding job!  My children are all avid readers and will, Lord willing, one day be able to share their love of reading, through our family's Heritage Library, with their children!