I've not posted pictures of our garden for quite awhile.  In fact, I'm not sure I've posted any since the blog has "gone public".
Here are just a few shots to give you an idea of how Copper's Garden Grows:
The two plantings of corn, about two weeks apart, are coming along nicely.  The corn on the left is just starting to come into silk!  Just in front of the corn is a patch of green beans, Dani is working in one of our two pumpkin patches, and behind her are an Ace tomato and beyond that our second patch of green beans.  We picked the first couple of green beans while we were out tonight, and it looks like we'll be having fresh green beans for dinner early next week!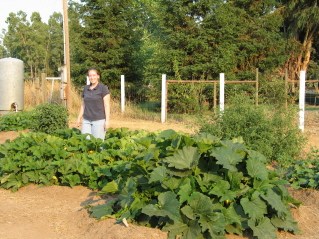 My Punkin-Girl is still in the Punkin Patch here, but this picture gives you an idea of the size of this patch of pumpkins.  It's huge already and the vines are growing further and further every day!!  I think that by fall the two pumpkin patches will take over the garden!   Our mondo-zucchini plant is in front of the pumpkins.  Behind the zucchini is our cherry tomato that is LOADED with blossoms (it's about time!!)  The zucchini is producing lots of squash for us!!   Though we try to pick them young and tender, we quite often find one that evaded us that's the size of a small club!
As far as the pumpkins go, I'll be posting separately about those including a fun Autumn craft idea!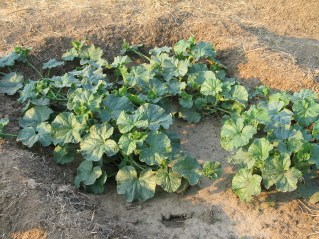 Our first planting of cantaloupe never sprouted.  Not sure if is was operator error or if critters got them.  Fortunately, the pack of seed was only half used, and our second planting is coming along nicely.  We'll have late melons this year!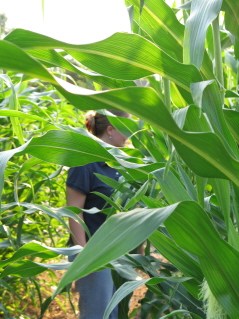 Dani is inspecting the corn for pests.  She found  ants, so we have to assume that they are herding aphids!  We do grow our veggies organically, so we'll just have to hose the aphids off the corn if they get too bad, or use an insecticidal soap.  Speaking of organically grown, our goat and sheep manure sure enriched our compost pile this last year if the height of this young corn is any indication!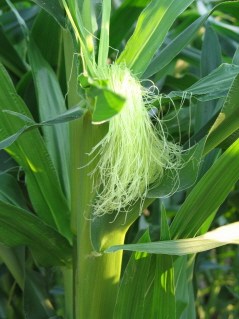 The first silks are appearing.  Fresh corn on the cob for dinner is coming quickly!  Yummy!