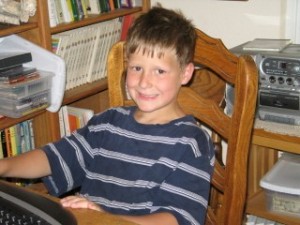 That was what I asked my 7 year old son tonight.  He was flying madly running through the house, trying to finish his after dinner chores in time to have some ice cream.  I  had just heard what sounded like something hitting the floor and scattering.
There was a looooooong pause, and then came the very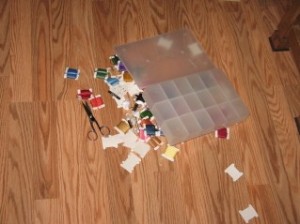 remorseful sounding reply, "Your sewing stuff".
Yep, my box of embroidery floss, the one with the spools all stored in numerical order, was upside down and no longer quite what you'd call orderly!!!
The truth is, it only took about 15 minutes to re-sort the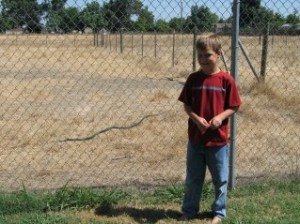 floss.  And I didn't even lose my cool!!  And yes, the boy did get his ice cream – double chocolate brownie flavor.   I love that boy!!  Besides, he was the only one of us brave enough to go stand by this snake that was wound into our cyclone fencing!!  Yes, that's a real snake – about 3″ long!
I love my boyzzzz!