I love to sew.  I really do!  However, I have not done much sewing at all for several years.  The reason?  All of my sewing and craft supplies, including my sewing machine, have been housed in the armoire in my bedroom.  The only logical place I had to sew was at the kitchen table.  I don't need to tell you how inconvenient that was!!  Setting up, taking down for meals, getting everything back out again – Ugh!
I've been longing to get back to my sewing.  I've had a pattern and fabric for a couple of jumpers for myself, fabric for two more of my favorite aprons, and fabric and a pattern for two or three Christmas gifts just sitting in the armoire.  I've been mooning over the projects that different ladies have been doing and talking about on their blogs.  I even spent an hour or so at our local JoAnn's last night looking at patterns (in anticipation of next week's $1.99 Simplicity pattern sale!), and oggling
fabrics  and dreaming about making birthday and Christmas gifts for the grandbabies.
Yesterday, I decided that I did
have a spot for a permanent sewing nook.  My mud room!  My mud room is just off of our schoolroom.  There is a sliding glass door leading to a small, covered back porch.  There is a closet on one side and this little nook on the right side with a window.
This morning my 12 year old son and Dani helped me move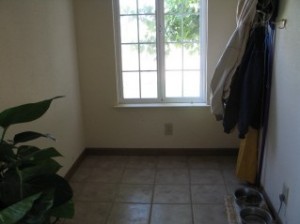 furniture out of the mudroom.  The antique sideboard was taken in to the living room.  I washed down the walls because they were, well, splattered with mud from the boots that came in from outside!  The boot trays and boots were moved outside the sliding door onto the covered porch.  I scrubbed the tile floor.  The dog's food and water were moved to the wall where the boots used to sit.
The little sewing table was pulled out from under my bed,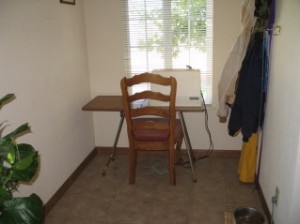 cleaned and set up.  The sewing machine was set up just in front of the window for nice, bright lighting during the day.  The window faces east and there is a large Sycamore tree just outside so it's always shady and not hot.  I brought in a padded kitchen chair for my sewing chair.  Another bonus in using the "mud room" for my new sewing area, is that the ironing board and iron hang just inside the door to the closet in that area!  Perfect!
My sewing supplies were gathered from hither and yon and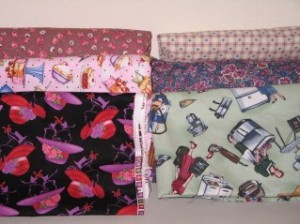 stored neatly into two empty Sterilite tubs I had on hand.  The few pieces of fabric that I have were also neatly folded and put into a large Sterilite tub.  I used nail polish remover to take the marker inked "Hot Wheels"  and "Army Men" off the sides of the used tubs.  (I always mark the sides of my boys' Sterilite toy tubs with a Sharpie pen.  It's a breeze to change the labeling by just removing the old ink with nail polish remover.)
I pulled the little folding table out of the school room closet and placed it against the wall.  For now, the Sterilite tubs are stacked neatly on it, but I'd love to have shelves on that wall!!  I can just picture the shelves, filled with carefully labeled Sterilite tubs, with all of my sewing and craft supplies in one place.  That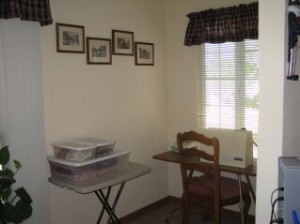 would leave the little table open for use as an extra surface for sewing or crafting.  Shelves??  What to do about shelves???
Then I remembered these!!!  We brought these shelves home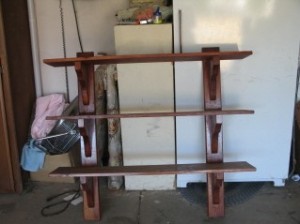 from Copper's Grandmother's house a couple of months ago.  They were made by his Grandfather and we just couldn't bear the thought of them being sold out of the family.  I had originally thought that they'd be good in my boys' room when we re-do that in the near future, but now I've measured and they'd be perfect up on the wall over the craft table!!  I'm hoping that Copper will have time to hang them for me on his days off this week.
I am so pleased to have a permanent sewing area!!  I'm even more pleased that I did it at no cost just with things I had on hand!!!  I hope Copper will be pleased when he comes home!