This is what happens when you spend your Sunday at rest, go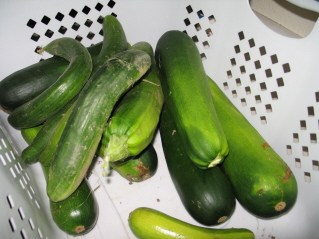 fishing on Monday and still don't harvest your garden on Tuesday!  You get a Wednesday full of baseball bat size zucchini and huge cucumbers!!  After cutting a couple of the biggest zucchini in half lengthwise and giving them to the chickens, we still had some left that were too big to steam or grill as we usually would.
Enter Tony the UPS Guy's recipe!  Yes, that's right, I get recipes from my UPS Guy!  Being a homeschooler AND a confirmed Biblioholic, Tony is in my driveway with deliveries quite often!  He's a great guy, cooks dinner for his wife and teenage children on Fridays, and is a Christian to boot!  So, when he says kids will "eat this, and like it!", I'm willing to give it a try!  So, last night, we had Zucchini Pizza, and it was yummy!!  The boys ate it all!  Best of all, it was quick and easy!
Thoroughly scrub the outside of two really big zucchini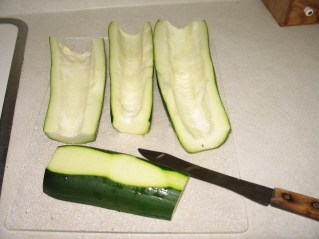 squash.  Cut off the stem end and the blossom end, and then halve them lengthwise.  Scoop out the middles and all the seeds with a spoon.  Then, very carefully, cut just enough away of the rounded bottom so that the squash will lie flat on a baking sheet.  The zucchini are now ready for filling with your favorite pizza fixin's – cheese, sausage, pepperoni, chicken, ground beef, etc.
I filled mine last night this way:  Brown 1 lb. of ground beef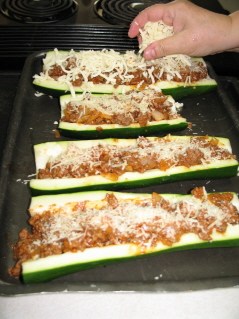 . Once the meat is browned, add my Quick & Easy Pizza Sauce (recipe follows) and simmer for about 10 minutes.  Spoon the ground beef and sauce into the rounded cavity of the squash.  Sprinkle grated Parmesan cheese over the top.  Top generously with Mozzarella cheese.  Bake at 350 degrees for 15 – 20 minutes, or until zucchini is tender and cheese is bubbly.  Slice into wedges and serve.
We had ours last night with cantaloupe.  Next time I'll be sure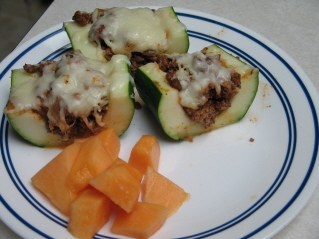 to make a batch of garlic bread, too!  This is a great recipe to make on the nights that Copper works because he does NOT like Zucchini!
Quick & Easy Homemade Pizza Sauce:
1 cup chopped onion, 1 clove garlic minced, 2 T. olive oil, 1-8 oz. can tomato sauce,  1/2 t. oregano, 1/2 t. basil, 1/4 t. sugar and 1/8 t. pepper.  Saute onion and garlic in olive oil until onion is transparent.  Add remaining ingredients, bring to boil and then turn down heat and simmer for 10 minutes.  That's it!!!  Quick, easy and yummy!  This is enough sauce to cover a 10″ x 16″ pan pizza.