As a private homeschooler, I am always looking for ways to s-t-r-e-t-c-h our homeschool monies.  Finding freebies is always nice, but finding a freebie that is really good is even better!!  That is why I was thrilled to find these Character Education Posters at Faith 4 Living.
There are 49 posters in all, each covering one character trait.  The character traits covered include:  Humility, Reverence, Thoroughness, Forgiveness, Alertness, Resourcefulness, Compassion, Discretion, Meekness, Security and many, many more.
Each character trait is written boldly at the top of each page,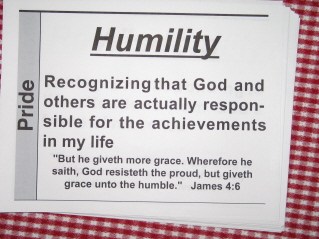 and is followed by a brief definition.  After that follows a Bible verse pertaining to the character trait.  Each side bar contains the opposite of the character trait.  For example, the opposite given for Humility is Pride, the opposite given for Boldness is Fearfulness.
I think that a nice, easy way to use these posters would be to choose one character trait per week.  Review the character trait with your children on Monday, and talk about some examples in their lives where they could show that quality.  Discuss the opposite, too, and ways that they can avoid displaying that negative trait.  Use the Bible verse given for memory work.  Post the poster in a prominent place in your schoolroom or homeschool area and refer to it everyday.  Look for opportunities to point out times when your children are displaying the character trait you're studying and praise them for it.  "Thank you for emptying the kitchen trash that was overflowing.  That was showing Initiative."   Or  "I'm sorry it took me so long to help you with your math question.  You really were Patient while you were waiting."
I printed my copies of these posters up on regular printer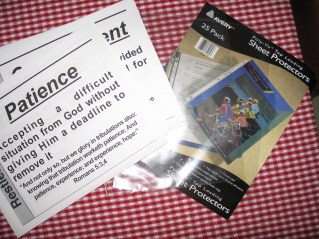 paper, slid them into page protectors and then put the whole set into a binder.  Another nice option would be to print them up on colored paper or to use card stock for stability.  You could arrange the posters alphabetically for convenience.  I'm placing the first five or six posters in my binder based on the order I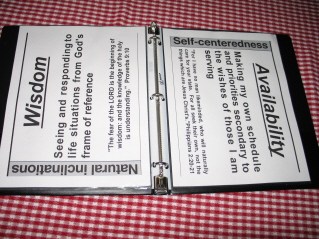 want to use them in, and then the rest alphabetically.  I will place an alphabetized list of all 49 traits at the front of the binder for future reference.
Next Thursday, as we think homeschool, I hope to give you some tips for surviving your local homeschool conference!