Now, let's go to the conference!!

THE DAY OF THE CONFERENCE: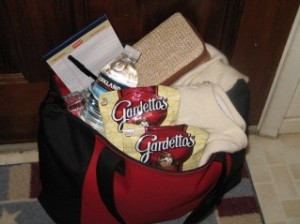 Wear comfortable clothing and shoes!  Dress as though you are sure it will be quite warm at the conference, and then bring a sweater!  There's nothing worse than being uncomfortably hot all day at a conference.   Having a sweater in your tote bag will insure that you won't get chilled if the air conditioning is a bit too cool.  You will, most likely, be on your feet a LOT so do wear your most comfortable shoes.
Be sure to allow plenty of time to get to the conference.  A good rule of thumb is to plan to arrive at least 45 minutes before the first workshop session.  This will allow you time to register for the conference, use the ladies room, and familiarize yourself with the conference facility.
Arrive for any workshops you wish to attend 5 – 10 minutes early.  The more popular speakers' rooms will fill fast, and the lesser known speakers are generally placed in rooms with fewer seats.  Arriving several minutes early assures that you will find a good seat.
Now for a few tips on workshop etiquette – As I said before, arrive several minutes early.  If you do, accidentally, arrive after the workshop has begun, take the nearest seat available and enter as noiselessly as possible.  Do not comment to your friends or seat mates during the speaker's presentation.  Try to hold off on asking questions during the presentation.  Most speakers will allow time for questions at the end of their workshop, ask any questions then, or wait until the workshop is over.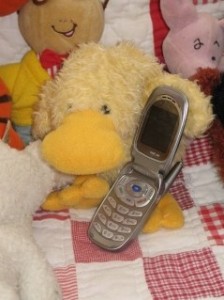 Turn OFF your cell phone.  Turn OFF your cell phone.  Turn OFF your cell phone.  Okay, ladies, I'm a Mom, too, and it's hard being away from your home and children all day.  Knowing that your family can reach you in an emergency can be important.  If you MUST have your phone on during workshops, set it to vibrate mode.  If the phone does vibrate (ring), open it up so that your caller knows the phone has been answered, but quickly and quietly exit the room before saying, "hello".  I cannot tell you how many workshops I have been in where women have not only answered their phones, but they have proceeded to have an entire conversation while seated right there in the workshop!!!!!  Yes, they were whispering, but if they were to be heard by the caller, then they were also talking loudly enough to be heard by those seated nearby.  Please, turn OFF your cell phone.
Okay, enough of that!  Let's go shopping!!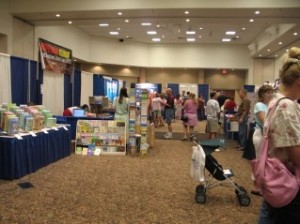 I have to admit, the Exhibit Hall is my favorite part of a homeschool conference!!!  I love checking out the new products.  I love being able to discover a brand new, or new-to-me company.  Since we homeschool, primarily, with living books, I delight in discovering a brand new, lovely picture book for our shelves, or a really great book on a topic we plan to cover during the next year.  Most of the conferences I attend, boast at least one used, out-of-print book dealer, and I can spend HOURS browsing their booths for wonderful out-of-print Landmarks, Tom Swift stories, and other treasures.   Even if your conference budget looks like mine this year, (i.e. NO money available!!), still allow time to check things out in the Exhibit Hall!  You might discover something great that you can save up to order later.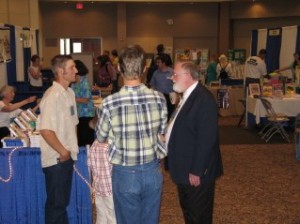 A homeschool conference Exhibit Hall is a gold mine of resources and information.  A large percentage of the Exhibitors rely on their homeschool business as their sole source of income.  Most Exhibitors are more than willing to take the time to explain their products with you.  I have seen the owner of a larger homeschool company sit right down on the floor in her booth with a customer and spend a great deal of time reviewing different Language Arts curriculum choices with her.  While that is the exception, my point is – feel free to ask questions, but then be careful not to dominate the Exhibitor's time if you have no intention of purchasing.
If money is tight, be sure to buy the necessities on your list first.  This will prevent you from overspending, but it will also ensure that you get what you really need before it sells out!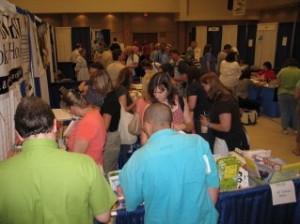 If you will not be able to buy at the Exhibit Hall, still feel free to browse to your heart's delight.  If you see products that you are interested in for the future, ask for a catalog or brochure, and let the Exhibitor know you will be ordering soon.  Make notes of products that appeal to you so that you don't forget them once you get home.  If you do order after the fact, be sure to let the Exhibitor know that you saw them at the homeschool conference in your city.
One final note, if your conference has survey forms or questionnaires for you to fill out, please, take the time to fill them out!!   Speaker evaluation forms help the conference committee to determine which speakers were the most beneficial to the conference attendees.  Speaker evaluation forms are usually available near the door at the end of each workshop session.  Overall evaluations for the whole conference are most often found inside the conference program.  Taking just a few minutes to fill these out and turn them in will help your local conference committee in planning next year's conference.  Be free with your compliments, and edifying with your criticism.
I hope that you will have the opportunity to attend at least one homeschool conference this summer.  It's well worth the investment of your time and money!