As I mentioned in my Whirlwind Wednesday post, I spent a good amount of time on line yesterday perusing the Simplicity Pattern website.  You know what?  There really are not very many good, dressy patterns for toddler boys!!!  I found a couple that I can jury-rig, I think.
Anyway, I made my list, checked it thrice for correct pattern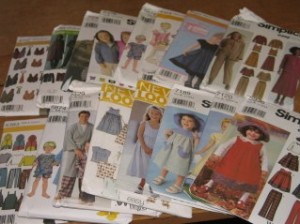 numbers and sizes, and was at JoAnn's when they unlocked the doors at 9:00 a.m..  I was able to buy all 16 patterns on my list, most were at that great $1.99 price!!!  I did pull the last envelope of a couple of them out of the drawer, but I was able to purchase every pattern on my list!  I'm planning on doing some fabric shopping and getting started on a couple of projects next week!
Oh, and we also bought the seven year old some chunkier,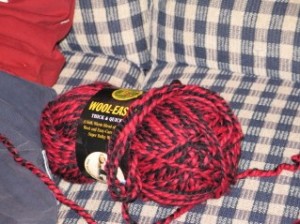 boy-sized yarn, and shorter size 13 knitting needles.  I LOVE the color of his new yarn, especially the name.  It's a red and black blend called Lumberjack!  Perfect guy stuff!  He's started a scarf – 15 stitches wide, and, so far, two rows long.