I've often wondered why some families have children that love to read, and other families bemoan the fact that their children loathe reading.  My two daughters, now 26 and 22, have always loved reading.  When the boys came along, now 12 and 7, things weren't quite the same.
My 12 year old was a delayed reader.  Reading was difficult for him for a long time (though I must add that he reads very well now and at, or above, grade level).  Through the years that he was not reading independently, I read to him.  I read the books I was assigning for school.  I read chapter books.  I read his science lessons (in the days before we used living books for science!).  And I read his math story problems.  All this while, my younger guy was usually in the room and would often join us in our reading time.
By the time the 12 year old was reading independently, he liked reading; but only short books.  Although his interest level was much higher, he could not be tempted to crack the cover of a chapter book.  The seven year old was the same way!   Hmmmmm………what's a mother to do???
Copper and I came up with a couple of schemes and, sure enough, the boys now love reading!!!  The seven year old was not quite so tough a nut to crack as his brother, but we did found some of these tools helpful with him as well.
1.  We allowed the boys to stay up 1/2 hour later every night, so long as they were reading.  We provided nice, bright book lights for this.  Suddenly, reading was fun
Something else began to happen, though.  The bedtime reading books were making their way out during the day time and we would often find a boy curled up before the fire, or outside in a tree, book in hand!
2.  I made up sticker charts and for every so many pages they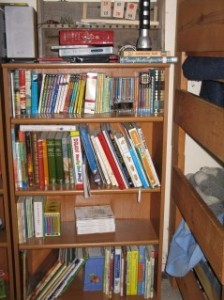 read, they got a sticker on their chart.  When the chart was completed, we went to the bookstore and they picked out their own book.  This was a hard one for me….I had to let them choose what they wanted, within the standards of decency set for our home, of course.  In those early days we came home with our fair share of Hank the Cowdog and sticker books.  (BTW, I have to admit, I think Hank the Cowdog is hysterical – just not what I would call a good book!).  As time passed, more pages were required for each sticker, and my sons also began choosing better quality volumes.  The books they earn on their sticker charts, are housed on their own bookshelves in their room**, along with books they receive as gifts.  I try not to mix these up with our Heritage Library.  These books will leave our home with their owners.
3.  We offered extra-incentives for reading a special book.  The prize might be a McFlurry from McDonald's or a Jamba Juice.   Extra incentives were offered, for example, for completing a first chapter book of about 100 pages, reading the entire Frog & Toad series, or finishing a classic.  The result – they learned that chapter books were fascinating and that the stories were wonderful!  They found that books Mom considered "classics" were actually a really good read!
4.  When one of the boys found a new interest, I made every effort to show them all the books we owned on that topic.  I also would try, if funds were available, to purchase one or two new books that would fit the current interest.  My older boy read hundreds of pages, maybe close to a thousand, on pirates a year or two ago.  He read non-fiction books about pirates.  He read historical fiction on pirates.  He read works of fiction about pirates.  Guess what??? Not only was he reading and loving it, but he learned a LOT about pirates and the time period when pirating was in its hey-day.
5.  We bought, or borrowed, audio books of books we wanted the boys to read which they might have initially found difficult.  Through audio books, my boys heard several G.A. Henty stories before they were able to read them on their own.  Audio books are also beneficial when dealing with "old English" language or books with a lot of dialect in the narration.
We still use some of these techniques, but only because they've become a part of family tradition.  My boys still are allowed to read in bed for half an hour at night.  We still have sticker charts for any reading they do outside of school time.  And we all enjoy a good audio book on a long car trip.  But they are both readers!!  Oh, they are 100% boy, too!  They aren't bookworms by any stretch, but they do love reading!!  The best part?  They both read their Bibles daily.
** – The picture is of one of the bookcases in my sons' room.  I thought it was funny that on top, where my older son keeps his bedtime reading, are these books:  The Lord of the Rings trilogy by J.R.R.Tolkien; George Washington's World by Genevieve Foster; and Guadalcanal Diary, by Richard Tregaskis (a Landmark book).  And this, the boy who didn't like to read!