I have had a very busy kitchen day today!  I have a loaf of Wheat Germ Sesame Bread in the bread machine.  It's baking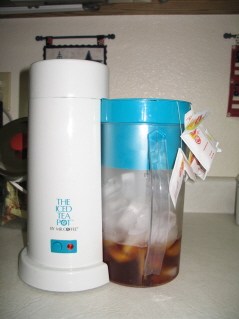 now and smells wonderful!  I've made a batch of chocolate ice cream and it's in the freezer firming up for tonight when Copper gets home from work.  I'm sipping an ice cold glass of iced tea, freshly brewed.  I have bulk sausage thawing and will be starting some pizza dough in the bread machine, as soon as the bread is done baking,  for tonight's sausage pizza.
As I've mentioned before the bread machine is one of my favorite household helpers.  Not only is making fresh bread for my family quick and easy, but since the bread is baked in the machine, the house stays cool.  Another great household helper in the summer is the crockpot.  I use mine quite a bit in the winter for soups and stews, but it's a great help in the summer as well.  The crockpot allows me to prepare my family's dinner in the cool of the morning, and keeps me out of the kitchen in the heat of the late afternoon.  The crockpot allows us to enjoy roasts and other such dishes without heating up the oven (and thus the whole house!).   I'm using the crockpot today to beat the summer heat and help me stretch my grocery budget as well.  Here's how.
I bought 5 1/4 lbs. of chicken thighs at the grocery store for $.79/lb.  My family prefers chicken breast if we are just having chicken grilled or baked.  However, in recipes like casseroles,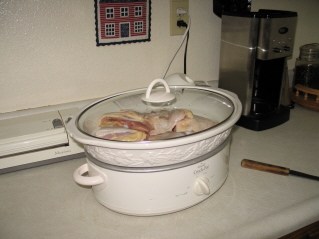 enchiladas, etc., the cut of meat isn't noticeable.  In fact, the thigh meat usually adds more flavor to the dish.  Today I placed all of those chicken thighs into my crockpot with about 2 cups of water, several baby carrots, two stalks of celery, 1/2 of an onion cut into big chunks, and about a teaspoon of homemade poultry seasoning (recipe follows).  They will cook on low for about 6 hours or so.  When they are done, I will remove the thighs with a slotted spoon (in case they are falling apart!) and place them in a covered dish in the fridge.  Then I'll strain the broth into a separate covered bowl and refrigerate that as well.
Tomorrow I will remove the skin and bones from the chicken and cut it up into small pieces.  I may shred some for enchiladas and/or tacos as well.  After the meat is cut up and/or shredded,  I will place approximately 1 1/2 – 2 cups of meat into a ziplock freezer bag.  I always carefully mark the contents of my freezer bags before putting the contents in.  I anticipate that I will have enough chicken meat for 5 meals from this batch.  That means that the meat for each of those main dishes will be just $.82!!!  I'll use the 1 1/2 cup bags for the nights it's just the children and I, and the 2 cup bags for dinners when Copper is home, too.  Since I used the crockpot, the meat will be tender and juicy and full of flavor.  The cooked meat can be used for BBQ Chicken Pizza, Chicken Tacos, Chicken Enchiladas, Chicken Pot Pie, Chicken Curry, etc.
Once the meat is in the freezer, I can pull the bowl of strained broth out.  Since it will have been in the fridge overnight, the fat will have risen to the top and will have congealed, making it very easy to remove.  After carefully marking my ziplock bags again, I will pour about 1 cup of broth into each bag.  I place the broth filled bags flat on a small tray or cookie sheet and then put them in the freezer.  Be sure your freezer bag is completely sealed!    Once they are frozen, I can remove my tray, but this makes the broth freeze in nice, flat, stackable packages.  The chicken broth from this process is so much more full of flavor than canned broths or powdered bouillons.  I use chicken broth when I cook rice, as well as in soups, pot pies, as a base for gravy, etc.
This idea is similar to one from Kim's Nuttnhoney web site.   This is her shredded chicken from the crockpot recipe.  Check out the rest of her site for other frugal and wonderful homemaking tips!
Here is the recipe for my homemade poultry seasoning.  I like it much better than the store-bought varieties; and, since I buy most of my herbs in bulk, it is far less expensive as well.  It takes just a few minutes to prepare.  I store it in an inexpensive spice shaker that my grocery store sells near its bulk herbs.  In addition to the normal uses, we also use it to season grilled chicken.  One of Copper's best grilled dishes is to coat a boneless pork tenderloin heavily in this poultry seasoning and then grill.  Yum!
Poultry Seasoning Recipe
3 T. dried thyme, 2 T. dried marjoram, 2 T. dried rosemary, 1 T. dried sage, 1 T. dried savory, 2 t. celery seeds, 1/2 t. ground allspice, 1/2 t. dried oregano, 1/4 t. black pepper.
Whirl all ingredients in a blender or food processor until powdered.  Use in poultry stuffings, gravies, sauces and stews.