We made some wonderful family memories yest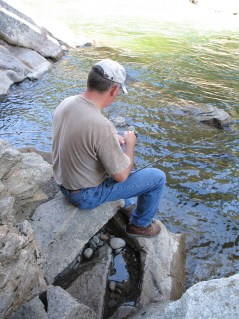 erday!  We drove a couple of hours up into the mountains to a state park, and Copper took the boys fishing.  They've done some fishing at a small, local lake, but other than my 12 year old catching a few teeny-tiny perch, they've not had much success.
Yesterday's outing did not see a lot of activity, but my 7 year old son caught his first fish!  A respectable looking, 12″ rainbow trout!  He was very proud of his
fish, and was sure to pull the stringer up out of the water to show anyone who ventured past.  My men fished for about 7 1/2 hours, with just the one catch, but oh!, did they have fun!  They climbed up and over rocks, moved up and down stream, climbed up the river bank and crossed the bridge to the other side, and repeated all of that several times over.
Dani and I went, too, of course.  We spent our day more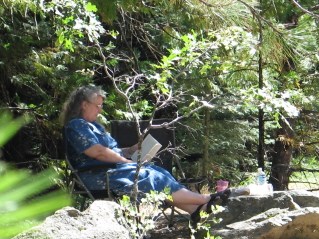 sedately, sitting in whatever shade we could find.  We ended up in a great spot that gave us shade almost all day, that had a built in foot stool/coffee table.  Dani worked a bit on the crocheted blanket she's making for a friend's baby, and she and I both read a LOT!  I finished two books that I've been reading for months.  I'll try to post a short review on each of those later.  We also walked up and down the steps leading to the river several times so that we could check on the guys and say, "hi", and take a few pictures, and wandered over to the bridge to take more pictures.  We took lots of pictures!!!
I, actually, had to limit my time peering down at them.  Every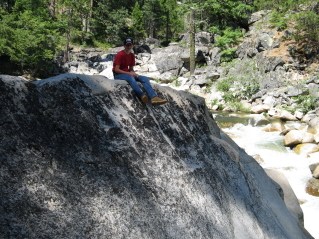 time I'd look, it seemed to me that my boys were in very scary places.  Now, I have learned to trust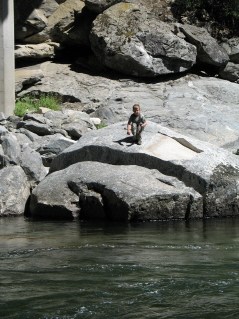 my husband.  Afterall, he loves his sons every bit as much as I do, and I know that he would not let anything happen to either one of them.  I also know, at least in my heart, that he knows better than I how to let boys be boys!! But, Oh! it's so hard for this mama to see them doing some of these things!!  I have so much more to learn when it comes to trusting God through my husband.  He's so patient with me (God and my husband!).
At the end of the day, though
we were all pretty tired, we did take the time to take the easy one hour trail that wandered through the redwood trees.  We haven't been to this particular state park in about ten years, so it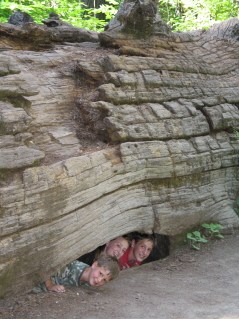 was fun for all of us.  My 7 year old was very impressed with the size of the trees, and very much enjoyed the places where the remains of fallen trees were made accessible for crawling in, over and through.
For the price of a few gallons of gas, the $6.00 park day pass and a Taco Bell dinner on the way home, we had a very enjoyable day without breaking the budget.  I love making memories with my family.    The boys w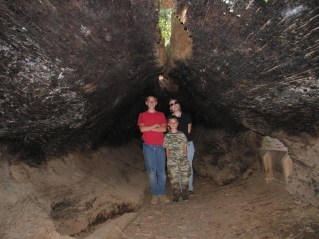 ill talk about our day for weeks!!