There are so many wonderful old-fashioned ideas and traditions, and they appeal to me now more than ever.  As I try to bring more Old Fashioned Pleasures into my home, I'll try to share them with you on Tuesdays.
The family Guest Book is a wonderful, old-fashioned tradition.  I have been married almost 28 years, and I have just recently purchased a guest book for our home.  I purchased a beautiful red leather book, with gold embossed writing on the cover.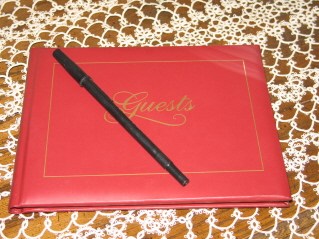 I have our guest book set out on the chest in my entry way, which is/was my hope chest.  I've placed it on the side of the chest nearest to the front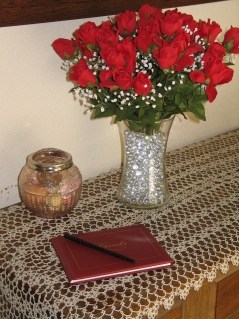 door and the entrance to my living room.  I need to remember to pick up a gold pen to put on the book.
My plan is to ask everyone who enters my home, whether by the front door or the back, to sign my guestbook.  Children, like my grandbabies, who are too young to write their own names,  will place their hands on the page to be traced!
So far, my results have been less than stellar!   Our pastor and one of the elders from our church paid us a visit, and though I told myself repeatedly before they arrived, "remember to ask them to sign, remember to ask them to sign", I forgot.  Sigh.  And just this past Sunday evening, my lovely daughter, son-in-love and grandchildren dropped by and I forgot to have them sign.  Double Sigh.  The only signatures in my book to date are my father-in-love and his wife!
The family guest book makes a lovely archive of the visitors to the home.  I plan to buy one as a gift for all future bridal showers and house warmings I attend.