Another old-fashioned pleasure that I'm learning to make better use of is the thank you note.  There are many occasions when a thank you note is appropriate – after receiving a gift, after being shown hospitality in someone's home, or perhaps even after being the recipient of some well-timed encouragement.
While I have been, generally, pretty good over the years about sending thank you notes for gifts, I've not been as diligent in sending them for other things.  The biggest stumbling block for me, in not taking part more often in this old-fashioned pleasure, was not having the materials necessary all in one place, as well as not having a pleasant place to write in.
This ladies writing desk was my mother's.  She kept it in her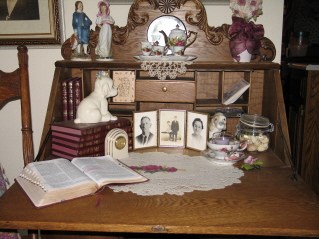 bedroom, stuffed full of STUFF, and I never realized how lovely it really was because it was always closed!!!  I just love having it in my parlor!  Though I do keep it open, it is still pretty filled up!! 
The desk is filled with family heirlooms and mementos, all of which are special to me and make me smile.
As I was setting up this vignette, though, I was careful to leave myself ample room to write a note or letter.  The center drawer holds plenty of writing pens, and you can see my assortment of Thank You and other note cards in a cubby on the right.  A well-marked Bible, one that I no longer carry to church on Sunday, sits open and ready for me to look up a Scripture should I want to include one in my notes.  Recently, I've added  a lovely lavendar scented candle and scented potpourri petals to the tea cup and saucer.  Now not only do I have a lovely (to me) looking place to write, but it is also now pleasantly scented as well!
When I want to write a thank you note now, my mom's
Sewing Rocker is simply pulled around to the front of the desk, a note card and pen are selected, and I'm ready to write.  Once I'm done, I can address the envelope, add a pretty stamp, put away my pen and put the rocker back to its normal position.  It takes me less than one minute to have everything in place for note writing, and less than one minute to return everything to its place.
Is there anyone you need to thank?  Have you recently been shown hospitality in someone's home?  Did someone do or say something that was especially encouraging to you?  Have you received a gift?  Take the time today to write an old-fashioned thank you note.  Is there a place in your home where you can set up your own little nook for writing notes?