I love having living things in my home, or at least the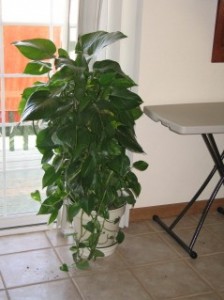 appearance of living things.  I think it may be a throw back to Victorian times, or, more likely, its our God-given role as garden-tenders  and dominion-takers that keeps this love in my heart.  I think that I love flowers, especially, because I love very feminine things and what can be more feminine than a rose or a blooming African Violet in a pretty ceramic pot?  My love of living things in the home extends also to small, contained animals, as well – tropical fish, birds, etc.
I would love to have more "real" plants in my home, but I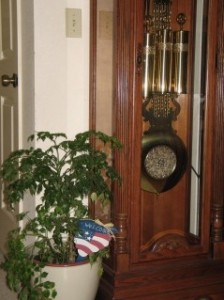 lack that knack that some women have for working them naturally into their decor.  I've been collecting pictures from magazines and from the internet for ideas in situations similar to those in my home where the home owner has used plants.  I have two lovely plants that were given to us when Copper's Mom passed away a year and a half ago.  They've been doing very well, and I have one placed by the sliding door in my mud room  sewing nook , and the other by the Grandfather clock in my entry.  I love having them there to greet us as we use these two entrances to our home!  They are green and living and, somehow, cheerful!
In my parlor I have three African Violets, all in matching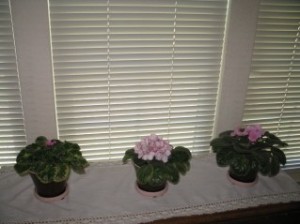 pots, just in front of my windows.  They are all three blooming right now, too, which is so fun!  I've been looking at the home improvement store for more of these same pots.  If I can find them, or two more that would coordinate, I'll buy two more violets for this table!
And roses!!!  Oh, how I do love roses!!!  I cannot, however,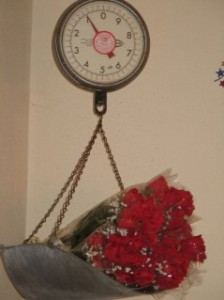 afford cut roses in my home year round; but I can afford good-quality silks that don't need to be replaced every few days!!  I have silk red roses in my entry way, in my bedroom and packaged bunches hanging on a market scale in my dining area.  I've actually had visitors to my home sniff my silks thinking they were real!!
I know there are some folks that say if you can't have real flowers or plants, don't have any.  To them I say, "Bah, Humbug!!"
I know that older "silks" were  not very realistic, but the silk plants and flowers available today are very real looking!!!!  I was recently a guest in a very lovely, very elegant home, which the homemaker had filled with silk plants!!  She had several plants in every room and all of them were silk, but I had to ask to know that!  I'm looking at several areas in my home where I would love to have some greenery, but there is not adequate light for a real plant.  I think that a nice silk plant is just the answer!
I also love, as mentioned earlier, having small living animals in my home.  We gave the seven year old a ten gallon aquarium for his last birthday.  We have it on top of a low bookcase here in the schoolroom, and the whole family has delighted in its occupants.  In fact, Copper and the boys are off to town even as I type this to buy a few more fish!
Years ago we had a male canary in our home.  I've missed having a singing bird in my home ever since.  I think that a lovely, small bird, in an attractive cage, is a lovely touch in the home!
Okay, small, contained animals are lovely.  But I have to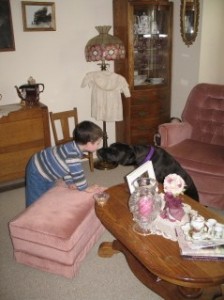 admit, we also own one very large, black, Lab-mix, named Dixie.  She is NOT small.  She is not contained, but rather has the run of the house.  However, she is also quite a wonderful contribution to our home!!!  She was having animal cookies with my eldest grandson in the parlor one day!
Have you found ways to naturally work living plants into your decor?  How do you handle lighting needs in a home with no windows in the living room like my house??  How about silks?  Do you love them or hate them?  Do you use them?