With the patriotic holidays now well behind us, my buntings and red, white and blue wreath have been packed carefully away until next May.  I wanted a new, very summery wreath for my front screen door from now until late September.
Copper took me to our local JoAnn's yesterday so I could pick out what I wanted.  What a blessing!!!  The floral stems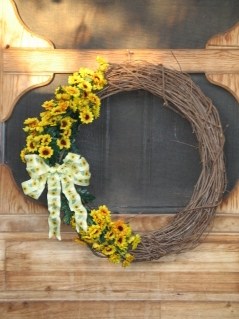 (cheery yellow sun flowers) were marked down from $4.99 to just $1.49 each!  I was able to buy a larger, 24″ grapevine wreath, two very full stems of the flowers and a couple of spools of ribbon for under $20, including tax.  The picture isn't really clear, but the flowers on the ribbon look exactly like the silk flowers on the wreath!
This evening, in about 30 minutes or so, I was able to cut the flowers apart, arrange them into the grapevine wreath (with some advisory help from Dani), and then add the bow!  Several of the commenters from one of my more recent posts will be pleased, I hope,  to see that this wreath, like my others, is asymmetrical!!