Today is nuts!!!  Absolutely whacko!  In addition to my normal, everyday homemaking things, along with my weekly Wednesday chores, I've got several things brewing.  I'll give you snippets of my day and some things I'm whining about working through.  I'm not really whining, though I'm tempted
I know that I can do all things through Christ who gives me strength!!  Even dealing with nutso, cuckoo days!
Corin sent me all the grandchildren's measurements.  The big $1.99 Simplicity pattern sale is tomorrow and I want to figure out in advance which sizes of which patterns I need for my grandchildren, for my boys, and for myself, so I'll be on line for quite awhile working through that.  I have about nine patterns, I think, picked out.  The limit is 10 patterns and last time the store sold out of the ones I wanted to buy.  I'm planning on hitting the store early tomorrow morning, list in hand!  I'll post pictures or links later.
With the trip to JoAnn's in the morning, I'll likely load up all the kids and join Dani for her weekly visit with Great Grandma.  That will have us gone most of the day tomorrow.  That means that I need to do most of tomorrow's household tasks today.
Corin and I are planning on attending a homeschool conference in a nearby city all day Friday and Saturday, so ditto doing everything that needs to be done around here for the weekend today!!  (I'll have my 12 year old take care of all my watering for me for the next few days and Dani will definitely hold down the fort!)
Copper and I were the Exhibit/Vendor Hall coordinators for our local homeschool conference earlier this year.  I have a couple of hours of wrap up work to do on that today.
I sat down to sew a bit last night and discovered two things:  The wonderful light that pours through the window in the day time is excellent, but the overhead light that is in my new sewing nook is not sufficient to work at night!!!  AND, while starting work on a new apron (from some great retro fabric) I discovered that I had grabbed extra wide bias tape at the store instead of the regular width. Oi!!!  So, no new apron this week!   The bias tape will go back with me to be exchanged when I buy patterns tomorrow.  I'll have to keep my eyes open for an inexpensive small desk lamp that can sit on the shelf over the sewing area, or find a vintage pole lamp for the corner (which I think would be so GREAT!).
I'm almost done with the first of Corin's dishtowels.  The one I worked first is a Sunbonnet Sue design, which I'm working in redwork.  I think it's pretty.  I'll post a picture when I'm done!
I need to send the kids out to harvest the garden.  I need to get some green beans snapped, blanched and into the freezer before they are lost.  Hate to send them out in this heat, but it's either that or lose the beans.  I'm sure there is zucchini out there that needs to be picked, too.  I'll probably have Dani grate all that and freeze it for muffins and quick breads this winter.
I'm washing up two pieces of fabric I've had forever so that I can make it up into this jumper.   It's a very easy pattern, so I'm hoping I can get one made up in the next week or so.
Taking time every now and again to admire the seven year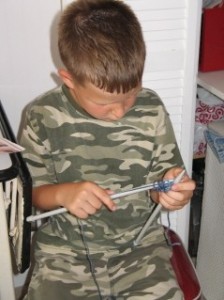 old's knitting!!  Dani asked him if he wanted to learn yesterday and he did!!!  He's working very diligently at it, too!!  Some chunkier, boy-size yarn is on the list for our JoAnn's trip tomorrow, too.
So that's it!!!  I think how we manage our lives is important, but how we manage our lives in front of our children is even more important.  I could bark orders and be  grumpy with my kids today and still get things done, or, I can speak sweetly with them and take the time to enjoy them and still get things done.  I'm choosing the second option!!   I love days like this, though.  So productive!  And I'll have no trouble sleeping tonight!