I'm continuing with my Friday theme of sharing a favorite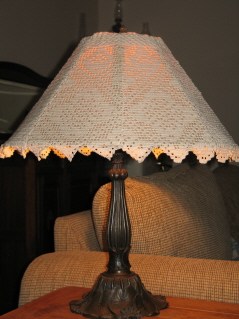 item with you.  I have two of these lamps, a matched pair.  They belonged to my late mother-in-love, Lola.  I'm not sure where the lamp bases came from.  However, Copper's Mom was the Queen of the thrift store/garage sale/estate sale find.  I've always had in my mind that these lamps came from one of her outings, but I cannot be sure.
The bases are metal and are lovely.  The very bottom design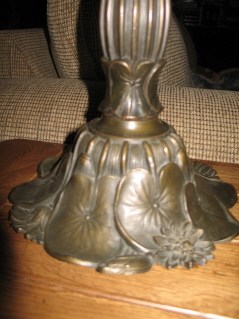 looks like lily pad leaves to me.  I use a soft brush to dust these every week so as not to scratch them.  (Oh, good grief!!  Can you tell that they were supposed to have been dusted yesterday!!!  Okay, Copper said I have to be "real" on my blog, so you now know that my living room did NOT get dusted yesterday!
)   I love admiring the design and pattern in them as I carefully and lovingly clean them (which I will be doing later today!).  When Lola left us for Heaven in February of 2005, these lamps came to live in my home.  I had admired them in her home for years and am so blessed to have them.  Family heirlooms are priceless and precious to me, regardless of their monetary value.

The most wonderful thing about these lamps, though, are the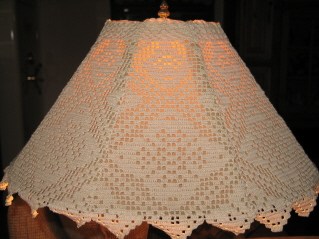 crocheted shades.  I know exactly where the crocheted shades came from. Copper's now 102
year old Grandmother made them!!  Aren't they gorgeous??  I wish I could remember what year she made the shades.  I can't even imagine the intricate work that went into making the pieces of the shade so that they would fit together "just so" to fit so perfectly!!!
Grandma also made a crocheted lamp shade for this antique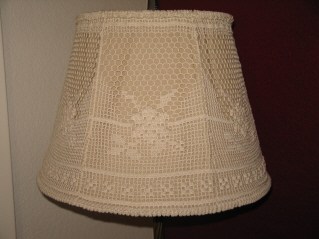 floor lamp that I bought shortly after she made the matched set for Lola.  I remember being so nervous asking her to do it because it seemed like such a huge project.  She just said, "well, you'll need to leave that shade here with me." and went to work.  The results are stunning and my Plain Jane floor lamp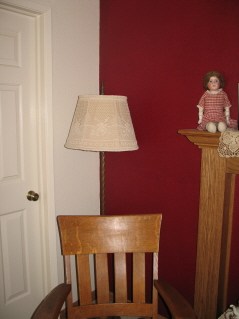 was given a new, beautiful life!!  I'm thinking that must have been about 18 years ago.  She would have been a very young 84 then!!!!
Lola's lamps are used in my home every day.  They are on the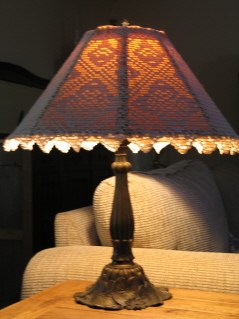 end tables in my living room.  They are wonderful for reading lamps or just for a nice warm light as they have three way switches in them.  Copper and I share one in the evening as he sits in his Father's Chair and as I sit on the love seat as we read.