My mom was a simple woman. She was born in 1920 and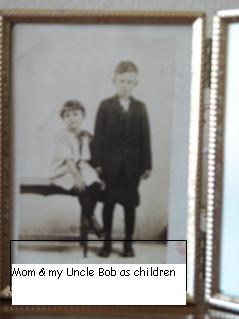 raised during very hard times in the mid-west. Her family moved from Kansas to Texas during a very bitter winter and she remembered, vividly, that her dog had to ride on the car's running boards in a snow storm after her father offered a ride to a man walking along the highway.
My mom was a working woman all of her adult life. She began working while she was still in high school as a waitress, and retired, following a severe shoulder injury, after working 30 years as a meat wrapper for a large grocery chain.
My mom and dad were married in 1942. My dad was drafted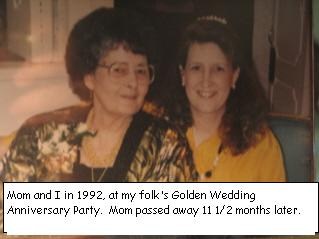 into the U.S. Army Air Corps very soon thereafter. They really didn't have a wedding, and in those hard times brides did not register for wedding china and pretty things for their homes. Most of my growing up years, our every day dishes were the patterns that were bought weekly, piece by piece, from the grocery store. My mom did have a special set of dishes that she kept in the high cupboard over the fridge that we used for special occasions. They were a pretty, floral stoneware. I believe she had place settings for six, but no serving dishes at all. If memory serves, I think she bought these by redeeming Blue Chip stamps.
Several years after Copper and I were married, my mom decided that she was going to have china. I'd never heard her even mention wanting china before, and I was quite surprised to find out that she had always loved the Old Country Roses pattern from Royal Albert. She began buying place settings and serving pieces when the large department stores held their sales.
During this same time, since she and Dad were both retired,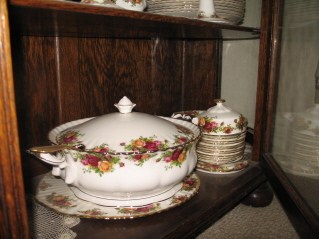 they began traveling in their pick-up and camper a LOT. One such trip led them into Canada where Mom discovered that there were even more pieces of this pattern available than were offered in the United States. She met a dealer there that sent her sale flyers throughout the year and Mom continued to build her set of china. She decided that she should have 13 place settings (12 for using, and one extra of each piece in case something broke). She had oodles of serving dishes of all shapes and sizes = bowls, platters, candy dishes, two tea pots, a coffee server, warmers and two covered soup tureens – one small, one large.
Now, I have to tell you (and this will crack you up, I'm sure), I thought that the Old Country Roses was just a bit too ornate and colorful. But Mom loved red, and had an exquisitely decorated home that featured red drapes and red carpet. Sounds a bit much, I know, but it really was pretty. I even thought so then, though I knew that I'd "never" (never say never, my friends) have RED stuff in my home!
I lost my mom to uterine cancer in January, 1993, and Dad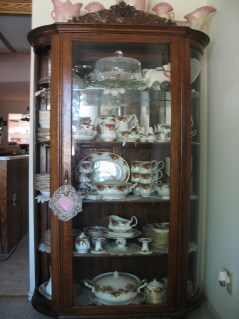 passed away in August of that same year. I was an only child. There was no doubt in my mind that my Grandmother's China cabinet, with the Old Country Roses china inside, would have to be placed in my dining room. The idea of packing away Mom's china, which she waited SO many years to have, was unthinkable!
It's an oft repeated saying, but ladies, I'm here to tell you that it's true – As we grow older, we DO become our mothers!! Or at least very much like them. !!! I'm sorry Corin and Danielle, but it's a fact!! I now absolutely LOVE "my" Old Country Roses china!!! I now have the china cabinet, which was my Grandmother's, in my parlor with most of the china displayed there. And, yes, we do use the china for special dinners during the year!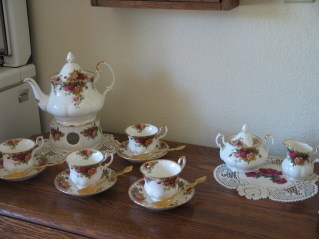 But you can find the Old Country Roses china here and there throughout my home.
I have a tea cart in my parlor (which was a gift from my parents) and on it I have an Old Country Roses tea service.
Lu and Meg (Copper's Dad and his wife of almost 23 years!!)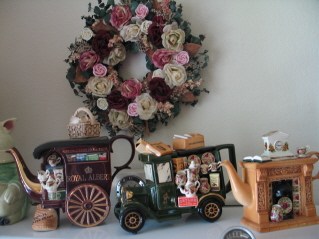 have blessed me with three Paul Cardew Old Country Roses decorative tea pots as gifts over the years, along with other little odds and ends from this pattern that Meg has a knack for finding.
Meg also found this cute miniature tea set that is just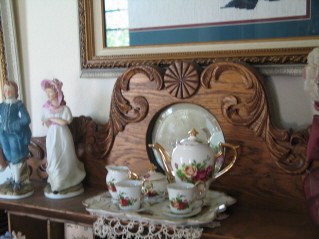 "almost" Old Country Roses, which she gave to me before my first, and so far only,  granddaughter was born. (Somehow Meg just knew that that third grandbaby would be a girl, and she was right!). The Old Country Roses china not only sets the tone for the way my parlor is now decorated, it is the foundation on which I hope to one day re-decorate it.
Finally, in our bedroom, there is a small Old Country Roses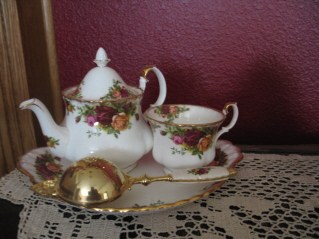 tea-for-one setting positioned on a trunk against my beautiful RED bedroom wall (remember ladies, NEVER say never!!).
And now, thanks to Corin, my blog also features this lovely, feminine, old-fashioned china pattern! Old Country Roses China – definitely one of my favorite things!!