You always remember the day you found it.  That treasure in your life.  I found my treasure 30 years ago today – on his 21st birthday!
I was invited to church with my best-friend-from-forever,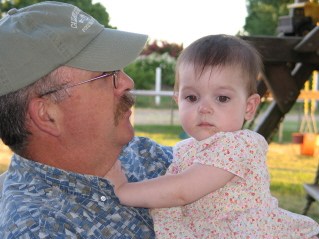 Carolyn.  It was a Wednesday evening service and she told me that the whole group (older high school through college age) would be heading to a home for a birthday party afterwards.  The guy was turning 21 and, "you know, you remember him from high school, right?".   Well, I did remember him.  He graduated a year ahead of us, and we ran with completely different crowds, but we did have a few friends in common.  Okay, I guess I'd go to the party, too.  Not knowing him well, but also not wanting to go the party empty-handed, I went to the grocery store and bought 21 pieces of Double Bubble gum.  I bought some curly ribbon and tied all the pieces of gum to it, about three or four inches apart and then coiled them into the bottom of a small, brown lunch sack.  The ribbon came out the top, and tied the bag closed.  A small note was on the end that said, simply, "pull".  He was tickled with his silly gift (and remembers it vividly!!).
Well, as I sat in his mother's living room that night, I couldn't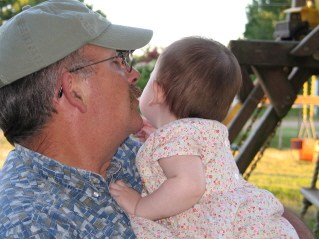 take my eyes off of him.  Was he that handsome in high school?  Well, it really didn't matter, I guess.  He was, apparently, interested in another girl. Within a couple of weeks, though, he was on the phone and asking me for a date!!  Would I?  You bet!!!  And the rest, as they say, is history.
After all these years, he's still drop-dead handsome.  And he's my absolute favorite all days, not just on Fridays, but TODAY is his 51st birthday!!!
Happy Birthday, my love!!   You're my ALL TIME FAVORITE!!!