Thank you all for your lovely anniversary wishes sent our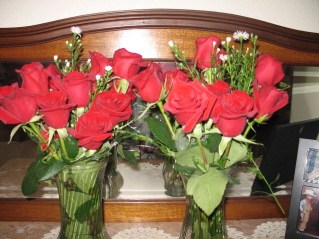 way.  We had a fabulous evening!  Copper surprised me by coming home a few hours early from work with two dozen red roses in his hand and instructions to be ready to go by 6:15!
Yikes!!!  Ladies, my husband works on Saturdays and doesn't get home until between 7:30 and 8:00 p.m.  Life with a man in his profession has meant that we often forgo celebrating birthdays and anniversaries on their actual date, and choose the next available day off to celebrate.  Early on, before he had a quarter century's worth of seniority, we even celebrated a lot of major holidays on a day off rather than their correct date.  I just assumed that this anniversary would be the same.
Suffice it to say, I was well into my Saturday afternoon routine completely unaware that he'd made plans for us.   When he came through the back door, I was unloading the washer, and hollering at the dryer (Yes, it's STILL broken!).  I had on a dress and an apron and sweat, literally, dripping off the end of my nose.  Our master bathroom was in a state of half-cleaned, half not-cleaned, and the clean sheets were still just heaped on our bed!  (Quite a romantic vision wasn't it????)
He's such a sweet man!!  He asked what he could do to help, and ironed the boys' clothes for church the next day, and made up the bed (with the all the shams and pillows and everything!).  I bustled around finishing cleaning the bathroom and our room, ironing my own dress for the evening and jumping into the shower.  I was ready to go with half an hour to spare!!
We went out for a lovely dinner at a local steak house, and then (HUGE surprise!), Copper had bought tickets for a play at a theater in the near-by city.  I can't tell you the last time we've been to a theater performance, and it was delightful!!!