Christmas?  Nope, more like It's Beginning to Look a Lot Like Copper's Wife Has Bitten Off More Than She Can Chew"!!!!!  Jo-Ann's had their Thanksgiving fabrics 50% off  this weekend.  I have had my eye on a whimsical pilgrim print for a Thanksgiving apron, and I told my Corin that I'd make  her a fall apron as well.  She wanted fall leaves.
I knew that my local Jo-Ann (which is a Jo-Ann Super Center) was sold out of that fun print I wanted, so I drove away from my home, past the town where "my" Jo-Anns is, and clean through the big city (and all of it's horrible, state fair traffic!!) to a regular Jo-Ann.  If any of you have been following the comments back and forth between HomemakerAng and I from  this post, you will laugh with me when I say, and I quote from Ang, "I was shocked and more excited…"  I called Dani from my cell phone four or five times to tell her what I was finding there (and I hate talking on my cell phone in stores!!).  This store, which is in an older, established more "high end" area, was full of fabric.  Nice fabrics.  A large variety of fabrics.  They even had a TON of nice children's prints.  They didn't have as many of the other craft-type items that the Super Center carries, but they had MORE fabric.
And this is what I bought.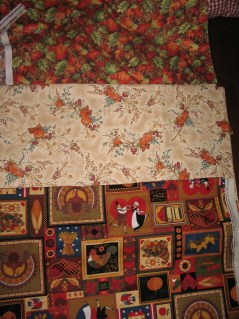 The picture isn't the best.  The top is the fabric for Corin's fall leaves apron, the middle is a cool, almost retro looking print of pumpkins and wheat stalks with some turquoise flowers, and the bottom is that whimsical Thanksgiving print that I've had my eye one.  I LOVE the dancing pilgrims!  I think it really catches the spirit of the joy of that first Thanksgiving Feast!
The store was not very busy when I first got there, and so I was able to pick their brains a bit about why their store has so much, nice fabric that the Super Center doesn't carry.
When I talked to him a couple of weeks ago, the manager of the Super Center told me that all buying decisions are made at the corporate level.  It seems that was only a partial truth.  In reality, corporate DOES order for all of the stores, but their orders are driven by the individual store's sales.   "My" Jo-ann Super Center is only about a year old.  My question is this – How do they know what will and will not sell in that store if they don't offer it for at least a season or two? Okay, I promise that I will never again  rarely hardly ever not rant about Jo-Ann anymore.  Today.
I sure do have a love-hate thing going with them, don't I??
I did know that the Christmas fabrics were 50% off, too; but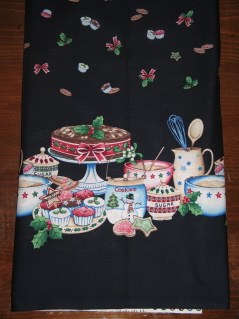 I really didn't plan to buy any yesterday.  But these two gorgeous border prints caught my eye and jumped into my cart!!  I knew they wouldn't be around for the next half off sale.  They are such nice quality and the prints are so vivid.  The picture doesn't do them justice.  The dark print is actually a very pretty navy blue and some of the desserts and sweets have a frosty-glittery paint on them.
The other print is just so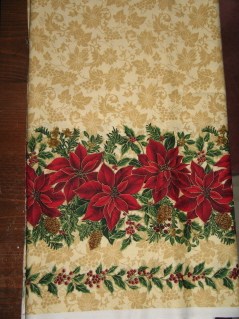 traditional and elegant.  My mother LOVED Poinsettias, and this fabric just reminded me so much of her.  Traditional.  Elegant without trying.  And how she loved gold and red!  The older I get, the more like my mom I become!
I'll be making both of these up with my favorite "Nora" apron from past posts, but I'm going to be experimenting with the pockets.  I want to be sure to capture as much as I can of two, full Poinsettias on the pockets of the apron from that fabric.  And maybe even have the points of the flowers over-edged and free form at the tops of the pockets.   And won't it be fun, if it works out, to have a plate of cupcakes or the sugar cannister be the pocket on that apron??  I'll post the results, but I'll  not be working on these for awhile yet.