Today is Saturday.  Twenty-eight years ago today was also a Saturday. I was planning on sleeping in a bit that morning. My mom, however, had a different idea.  "Get up. Get dressed."  "Oh.  And brush your hair.".   I wasn't quite sure why my leisurely morning was being disrupted, and I'm sure I mumbled at my mom.
But , what was that?  Drums?  Did I hear drums??!!??  And not just any drums, mind you, but the very familiar to me cadence of the drum line of the senior band that I directed the flag corps for.  I raced outside, and there they were!  Not only the senior band, but also the junior band and my flag corps, along with various parents from the support group of our local community band.  They were marching right down the street that I had lived on my entire life!!  The drums sounded the roll-off and then the wonderful sounds of the music that I had marched miles and miles to.  The song was "Black Saddles", a tune that I believe originated with the Stanford University Marching Band.
I had been the solo baton twirler for our community band since I was about 9, and had only given up my position a few months earlier when I reached the age for resigning from the band at 21.  Oh, the miles I had marched to that cadence! And that summer, though I was now 21, I still marched to that familiar sound, but now as director of the flag corps and now along the sidelines instead of the middle of the street.
You see, this wonderful group was paying me quite a tribute that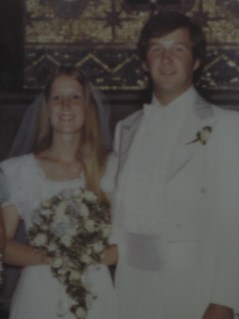 morning – August 19, 1978.  Because that particular day was to be my wedding day.  I was being given the gift of a parade and concert by those wonderful kids with the full support of their parents.  I cried, and I applauded as first the senior band, then the junior band, played for me.
And later that day, in the very early evening, many of my fellow community band alumni, who had been my friends for many years, also played a concert for me.  But this time they, under the direction of my high school band director, were playing in the balcony of my church, as Copper and I exchanged our wedding vows.  Special music was even written for our wedding by the fella, and my very dear friend, who had been the drum major of the band for many years!
What a sweet memory to me. But sweeter still have been the wonderful 28 years since.
Happy Anniversary, my love!!!
I still hear music when I'm with you!!