Wearing aprons is an old-fashioned pleasure for sure, but one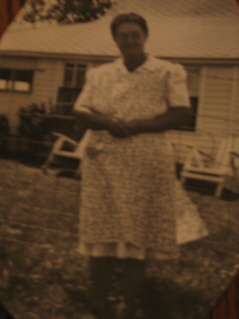 that has plenty of merit for today's homemaker.  My grandmother died when I was only twelve, but I always remember her wearing an apron in the kitchen and in the garden.  I treasure this picture of her next to her home, with the breeze gently blowing her apron and skirt!
An apron can be a very utilitarian object, protecting your clothing from cooking stains, cleaning chemicals and just plain ol' dirt.  I began wearing aprons on a daily basis about two years ago because I didn't want to have any more cooking stains on any more of my clothes!!  I wear aprons to cook (always!), to clean (most of the time) and while working outside (unless I'm wearing actual hard-work clothes).  Full length aprons are best for cooking, but a nice half-apron is nice to have on during your normal daily chores.  Aprons with pockets are great for those little odds and ends that you pick up as you are cleaning, or to keep your fresh hankie in.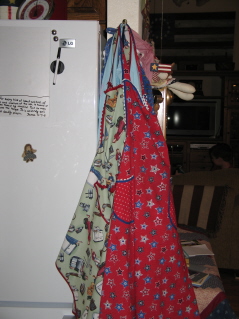 Utilitarian as they may be, I have come to LOVE my aprons and consider them part of my wardrobe.  In that light, it's important that my aprons are clean, pretty, feminine and comfortable.  I keep several hanging neatly on a hook in my kitchen; and I'm working on making a few new ones to replace some older, stained and/or worn out aprons.
I would, however, like to share a few words with you on apron culture.  Ladies, we want to look attractive and feminine for our families, and for our husbands especially.  Choose pretty aprons for yourself.   If you like it and think that's it's pretty, chances are that you will look pretty in it!
Buying vintage aprons in thrift and antique stores may be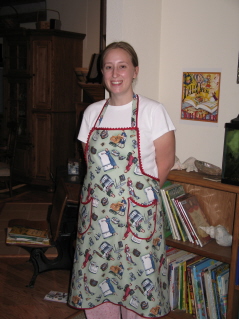 possible in some parts of the country, but vintage equals very pricey where I live.  You can, however, find very simple-to-sew apron patterns and make your own quite economincally.  My favorite homemade apron pattern takes just 1 1/2 yards of fabric and two packages of bias tape. I finished this one from a fun retro fabric last night.  Dani has declared that it is her new favorite!
I haven't made it up yet, but this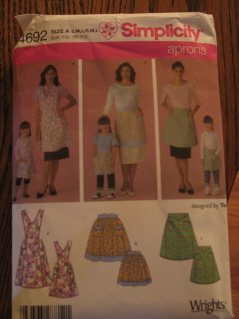 pattern – Simplicity #4692 –  has three very cute aprons for mothers and daughters!  A few dollars spent on a nice apron will save your clothing!
Keep your aprons clean and tidy.  A dirty, stained, yucky old apron is not going to do a thing toward making you look attractive to your husband!   I know that your aprons will become soiled as you work about your homes and in your kitchens; but when they do become dirty, wash them!  I hang mine right back up on their hook in the kitchen when they are still warm from the dryer and so I do not need to iron them.
Take your apron off before you sit down to eat with your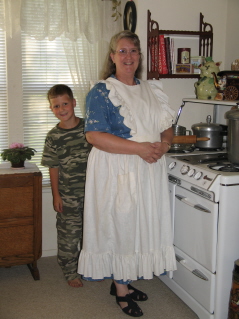 family!!  When guests arrive at your home, if at all possible, take your apron off to greet them!!  You can always slip your apron back on to finish your dinner preparations after they have been greeted and made comfortable in your home.  The same thing applies to guests who arrive unexpectedly.  It's nice to have a special "dressy" apron for special occasions.  I have this lovely, off-white apron with ruffles over the shoulders for special days.  (LOL – I didn't realize until I was putting this picture into the blog entry that I had posed almost identically to my grandmother in her picture above!!  Dani says it's scary!  Too funny!)
Here are some links to a site I really enjoy – EclecticCulture Farm.  I've linked to shots of Homemakerang wearing some of her cute, feminine and great aprons as she is  sewing,  mowing and cleaning house .