I have to confess, before I even begin, that I like paper towels.  It is so quick and easy to pull a couple of towels off the roll to quickly wipe up a mess and then to just dispose of them.  They are handy, alright.  However, they can be expensive.  I do believe that I have found a wonderful alternative!
These wonderful white terry towels are one of my best servants!!  They serve a million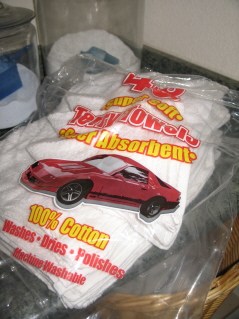 purposes – mopping up spills, house cleaning, wiping the dog's muddy paws in the winter, my favorite helper at dinner time, and even  a diaper changing mat!!  They're a great size – about 13 1/2″ x 16″ after washing.  Small enough to fold neatly and compactly, and yet large enough to handle a good-sized mess.
They are very inexpensive.  I am able to buy 48 of these for just $12.99, or only about $.27 each!  This pack came from our local Costco, and I found them in the automotive section (of all places!!).  They last for YEARS!!!  At only four for a dollar, I think they are a very economical buy!!  And environmentally friendly to boot!
Here is how these simple terry towels serve me each and every day:
When they are brand, spankin' new, I keep about a dozen of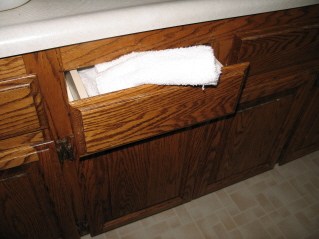 them in a drawer in my kitchen.  I pull a clean one out every time I start dinner or a baking session.  I do, of course, have a hanging hand towel in my kitchen, but I find that I wash my hands so many times during the course of a cooking or baking session, that the hand towel is soon soggy.  The white terry towel not only serves as a quick place to dry just-washed hands, but it also is handy for wiping up and keeping my work area clean.  When one becomes too soiled or too soggy for further use, I drop it onto the floor.  Once I'm done cooking, I can use any wet ones to wipe up the floor of my cooking area, and then deposit it in the dirty laundry.
I wash these terry towels with all of my other cleaning cloths about once a week in hot water and I do use bleach to keep them white and germ free.  Since they are 100% cotton, they wash and dry nicely and actually improve after the first couple of washings!  One caution – they are not lint free, so they do not make good dust cloths or window cleaning towels.
Once the towels become stained (I only like the pristine white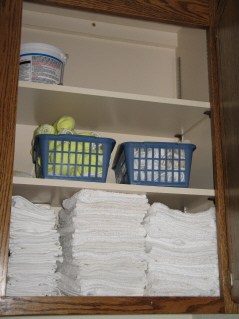 ones in my kitchen!), they are transferred to the stack of cleaning towels in the cupboard in my laundry room.  Everyone in the family knows that this is the place to grab a towel to wipe up a spill, or to use for house cleaning purposes.
Spilled milk at the table?  Grab two or three (or MORE!)  terry towels.  Cleaning the bathroom?  Grab a small stack of terry towels.  Grandbaby has a dirty diaper?  Grab a terry towel to put under baby for the diaper change.  Does the dog have muddy paws?  Clean them with a terry towel, please, before letting her in.  Who tracked mud in on their shoes?  Grab the spray cleaner and a terry towel.
These towels last a long, long time.  I've been using them steadily in my home for about four years, and have only recently bought my second package.  The second package is still about 3/4 full, too.  I simply throw away any that become ragged, holey or really horribly stained.  Lightly stained ones cycle into the cleaning towel stacks from the kitchen, and the brand new ones keep my kitchen drawer full of bright, white towels.
Since they are so inexpensive, it is very easy to let Copper use one for something greasy outside and then just toss it.  I also have been known to toss a towel that was used to clean up a really nasty, um, organic mess.
The small, white terry towel – a wonderful homemaker's servant!