Pattern Tracing Fabric – Do you know about this stuff?  I thought everyone did, but when I last bought it at the JoAnn Super Store the cutting lady didn't know what it was.  This post is for those of you who sew and don't know about this wonderful stuff.
Pattern tracing fabric enables you to make the most of your pattern buying dollars.  Most patterns these days come with multiple sizes printed on the pattern paper.  Sometimes, that's not a big deal.  We just cut out our size from the tissue paper and move on.  However, there are several instances when this is wasteful.
I have purchased several apron patterns lately with the intention of making aprons for not only myself, but also for others as gifts.  Since there are three sizes printed overlapping on the tissue, cutting out the "medium", for example, would prohibit me from ever using the "small" or "large" size.  The same is true of several patterns I bought for my grandchildren.  If I cut out the pattern to fit the four year old, the pattern for the three year old is unusable.  Re-using a different size of the same pattern would also benefit someone who is successfully dieting.
With pattern tracing fabric, and a few simple tools, one pattern can be used over and over again, in multiple sizes.  The pattern tracing fabric is simply laid over the tissue pattern paper and traced!  Rather than pinning the pieces, which will eventually lead to tears in the tissue, pattern weights are used to hold the fabric in place over the tissue.  My pattern weights were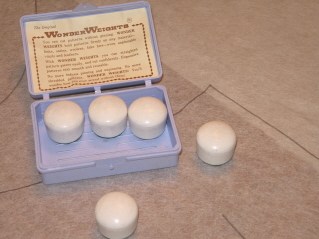 purchased years and years ago, and I do not know the current price for a set of six of these.  They are a very good investment, though, and will last forever.  I do use a special Pattern Tracing Pencil to trace the patterns, but any very soft, wide-lead pencil will do.
I trace very carefully all of the outside lines of the pattern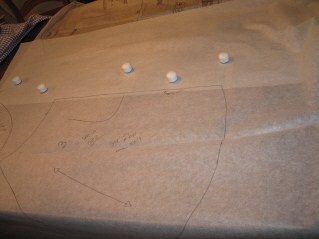 piece in the size I want, being careful to mark all pocket placement, darts, notches, dots, the grain of fabric arrows, etc.  When the piece has been traced, I write the pattern number, view number, size, etc., along with how many to cut, etc. onto the piece.
The pattern tracing fabric is then cut out, just as you would
cut out the pattern from the tissue.  You will then use the pieces cut from the pattern tracing fabric just as you would the regular tissue paper pattern pieces when laying out and cutting the fabric for your project.  The tissue pattern pieces will still be intact on the full sheet of paper and can be folded and put back into the envelope to be traced in another size another day.
Since the pattern tracing fabric is sturdier than tissue paper, the pattern pieces last through many uses.  You can also use the pattern tracing  fabric for making alterations to your patterns.
Pattern tracing fabric is a very thin non-woven fabric, about the stiffness of lightwelt Pelon interfacing.  It is usually located on the racks with the interfacings at the fabric store.  It is about 45″ wide.
When I last bought it, it sold for $1.89/yard, but I used a 40%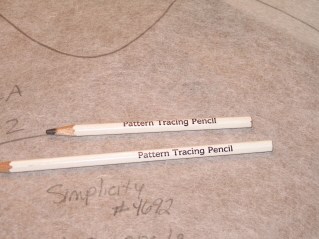 off coupon and bought 12 yards.  Those 12 yards will last me a LONG time, as I can trace the pattern pieces just as closely together as they can fit before cutting them out.  My total cost for the 12 yards of pattern tracing fabric was $13.61 (after the 40% coupon), or $1.13/yard.   Today I used just under 3/4 yard to trace one misses' and one child's apron pattern.  The original pattern I traced retails for $14.95!!!  Now, I will honestly tell you that I bought the pattern on sale and did not pay $14.95 for it, but you can see that making two patterns from the original for under a dollar is quite a savings!!
I did check the pattern instructions and envelope to be sure that this was not in violation of copyright.  Since I am using the pattern solely for use in my own private home, and not making anything for re-sale, making copies of more than one size is within the copyright.  If you are making items for re-sale, or have the intention of sharing a pattern with someone outside of your own home, I believe that this would be a copyright infringement.
This is one sewing hint that I'm glad I learned "way back when".   It has saved me quite a bit of money over the years as I've been able to use and re-use several multi-sized patterns.  And who knows, all of my still intact, not cut out tissue paper patterns, may one day sell as "vintage, in perfect condition" for big bucks on the future version of e-bay!

God bless you as you look well to the ways of your household.