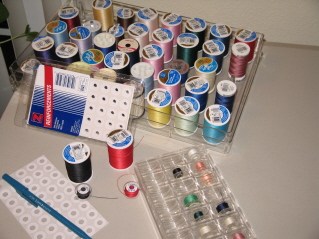 Did you know that it is important that your upper threads and your bobbin threads match exactly??  I found this out the hard way several years ago.  I had some nice black Gutterman thread threaded onto my machine, and a black bobbin below.  My stitches were not right.  The upper and lower tensions were not in synch, and no matter how much I adjusted, I couldn't get it right.  My machine jammed a couple of times to boot.
It turns out that the bobbin was wound with a Coats Dual Duty black thread.  Now, I'm not going to debate the merits of one brand of thread over another here.  What I am going to do is to give you a quick, easy and cheap tip for marking your bobbins to avoid this problem. Holes.  Okay, I know that, technically, they are called "gummed reinforcements", but we always just call them holes!  They are the little peel off stickers that are supposed to be used to mend the tears of binder paper.
Amazingly enough, those little holes are just about exactly the size of the hole in most bobbins!!  What I do, every time I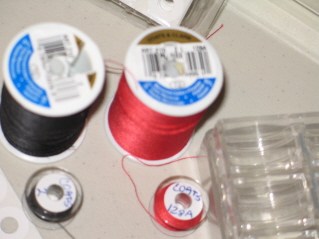 wind a bobbin, is to write on one of those "holes" the brand of thread and the color number.  It's very simple then to check to see if the red bobbin I've just pulled out of the bobbin box matches the Coats #128A red thread I've chosen or not.  I leave the stickers on when I put the bobbins into my machine and they are fine.  Though I've never heard of leaving them on the bobbins causing a problem, you might want to watch yours carefully the first few times in your machine to be sure that the workings of your machine don't cause the labels to come loose.  When the bobbin is emptied, it's very easy to peel off the old label and apply a new one.  I keep a package of "holes" in my notions box.
With our fall term of homeschooling just days away, I found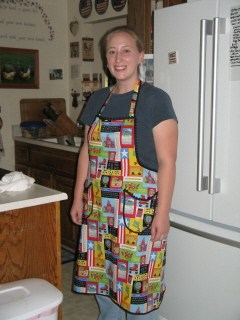 the motivation to finish my "back-to-school" apron.  I'm not sure how I did it, but I totally messed up the bias tape application on one of the ties.  I missed binding the edge of a good two to three inches!!!  I was working too late one evening, I think. 
Anyway, I left the 80% complete apron hanging on the cork board by the sewing machine for two weeks!!!  I finished it Saturday.  Rather than trying to rip off the bias tape, and since I had plenty of left over fabric and bias tape, I simply cut out a new tie, applied the bias tape, and then attached the tie to the apron.  Dani's so good to model for me.
While my injured back healed up late last week, I spent a lot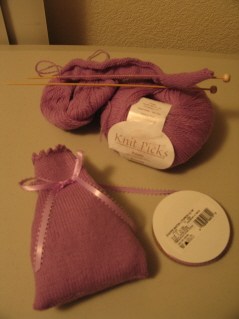 of time working on the knitted lavender bags from this cool book.    I finished one, and quickly churned out the second.  A third is well under way.  They are worked, primarily, in a stockinette stitch; but since they are small, the project is finished before boredom sets in too badly.  There's a bit of a reprieve, near the end, when you work the eyelets for the ribbon closure, and then the picot edging helps the project to end with some fun.  I really like the way these have turned out!!
I've ordered some bulk lavender seeds from here, and will sew up little, lightweight muslin bags for the seeds once they arrive, and then the bags will be really and truly finished.  I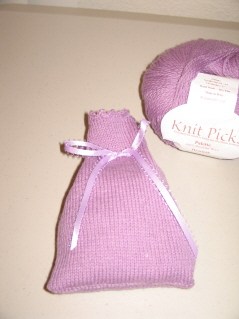 stuffed this one with a bit of tissue so that you can see what the finished bags look like.  They'll look better with the firmer muslin stuffed lavender bag in them.  I'm thinking I would like to order some pretty pink wool from www.knitpicks.com to make some more of these, and fill them with rose hips or rose scented potpourri.  Or some lovely cream wool filled with a vanilla scent.  Or a pretty yellow wool with lemon geranium or some other lovely lemon scent.  I'll be using these as little extras tied onto gifts, and as hostess gifts, I think.
God bless you as you look well to the ways of your household!