What I've been doing:
Updating, working and re-working my planner.  I know a lot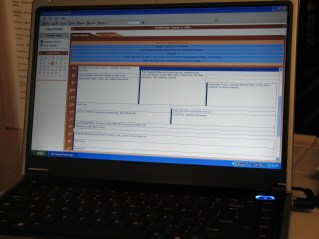 of you keep these, and many of you call them your Homemaker's Journal.  I keep mine on my laptop (I plan on yacking about planners and such sometime soon!)
Sewing!!  I've been sewing!!  I started to work on my "back-to-school" apron because, well, truthfully?  I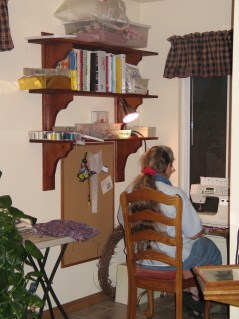 just LOVE the fabric so much and the black bias tape and rick-rack were just calling out to me, "Make us first!  Make us first!".  Ever have a project do that to you? I've been pre-washing all of my fabrics so that they are ready to go whenever I might have time to cut something out.  Oh!  And the 12 year old hung up the nifty cork board next to the sewing machine for me last night.  That boy is getting down-right handy!!  The cork board is just right for pinning up pattern pieces as I unpin them from the fabric, or for instructions or pictures.  I also used it last night to pin up the small pieces of the apron as I finished them!
Child training.  BIG TIME child training.  If you've read my blog much, you know I have these two BOYZ that I love dearly.  God so richly blessed us, and showed His mercy and grace on us, in sending them our way a bit late in life.  We have, however, been a bit lax here of late and have let some things get away from us.  This is an especially bad thing to let happen to the 7 year old.  God has reminded us of our responsibility in training them up in the way they should go and so, we're training!!!  I've ordered  this chart and this chart from Doorposts to help us muddle through  work through our current crunch.  I own several of their products and consider them GREAT resources!  BTW, you can especially be in prayer for my boys this week as they are to be baptized on Sunday!
Blanching and freezing green beans from the garden.  I'll be working on corn this week.
What I've been ordering:
I have spent an inordinate amount of time lately doing some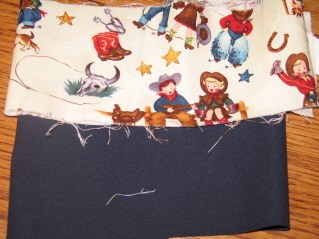 on line shopping.  I've ordered this navy twill and the cute cowboy/cowgirl kids fabric for matching outfits for Corin's three little ones.  The picture doesn't do it justice, but the navy twill brings out the blue in the print and looks great together.  I also ordered  (don't click if you don't want to peek, Corin!) this for jammies for her boys, and this for jammies for her daughter.  The jammies will be two-piece sets with long pants and long sleeves with ribbing along the neck, sleeves and ankles.  Everything was ordered from J & O Fabrics .  So far, all of their fabrics have been very fine quality.  I was especially pleased with the hand of the cowboy kids print and the twill from the samples.  Good stuff.  Too bad the UPS shipping is so $$high$$!
I'm also hoping to get back into knitting.  For the short version of my knitting history – I was taught to knit by a Dutch friend.  She was born and raised in Holland, and lived there until she was an adult.  She was an expert knitter!!  She taught me to knit, years ago, but all of her patterns were in Dutch!  She'd just get me started on the next step of whatever I was making and I'd work until I needed the next step of the pattern and then she'd tell me that.  Thinking back, our conversations were hysterical as she translated, badly, her Dutch patterns into English.   So, I never learned to read a knitting pattern, and it's been YEARS since I've really done much knitting.  I'm sure I've forgotten more than I knew
Anyway, I got Dani started knitting last winter and she is doing fabulously with hers.  We're feeling brave (thanks to knowing a couple of expert knitters at church!) and purchased some yarn from Knit Picks the other day.  I'm planning on making some of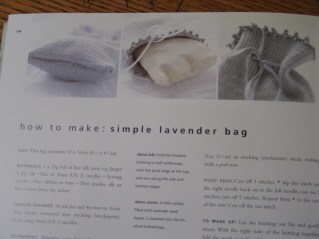 these cute lavendar bags for gifts and then I'll start on this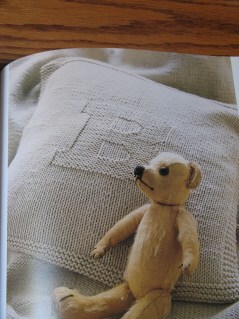 knitted, personalized pillow after all of my gift-making is done.   Both patterns are from this book .
What I've been drinking:
I found this Twining's Four Red Fruits Tea at the grocery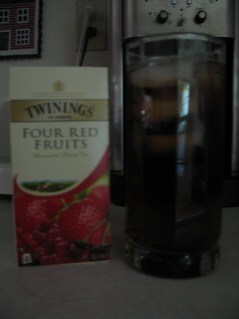 store awhile back.  I LOVE tea and I'm usually up to trying something new.  I brought the box home and forgot all about it.  Until yesterday!  I put six tea bags in the iced tea maker and brewed some up.  Oh, mannnnnn!!!!!!  This is some GOOOD iced tea!!  (I sweeten with Splenda.  Love my tea sweet, but don't want the calories!!)
And, I've been tagged!!
Sweet Mindy, over at PeacefulCorner has tagged me with a Meme.
1.  Five Things in the Freezer:  (do I have to be honest?  Yes?  sigh…oh, okay)  Thick layers of ice on all of the shelves, my bulk spices, several pounds of wheat germ (don't ask), green beans from our garden, several packages of Farmer John link sausages bought on sale.
2.  Five Things in the Closet:  (hmmmm, she didn't specify WHICH closet, so I'll choose the school room closet!), a neat stack of Lauri puzzles, a tub of math manipulatives, a tub with all the pieces for our board games (with the game boards stacked underneath), a box of Dover coloring books, and my iron and ironing board.
3.  Five Things in the Car:  A Thomas Brothers map of our county, a map of our state, books (the 12 year old ALWAYS has a stash of books in my van!), and in the glove box there are straws and napkins from various fast-food joints.
4.  Five Things in my Purse:  My wallet, a hair brush, my lipstick, pens (some that work and some that don't), and a small notebook.
5.  Five Things in my Wallet:  eighteen cents (all in pennies), my ever-faithful ATM card, three gift cards to Home Depot (all with only a couple bucks each left on them), a Starbucks gift card (with about $1 left on it), and some pictures of my children and grandchildren.
Five folks I'm tagging:
Corin at Thoughts of a Homeschooled Homeschooler
Susan at A Place Called Home
Kelli at There is No Place Like Home
Barbara (aka Barbieheart aka G.L.H.) at Rainbow Cottage
Ann at Stampinlady
God bless you all as you look well to the ways of your households today!