Danielle, at the request of one of my readers,  has blessed me by writing this post.  You've read what I had to say about her here, but here is her story, in her own, unedited words.  I love you, Dani-girl!!
My life as a still single daughter
Hello my name is Dani and I am a 22 year old stay at home daughter. I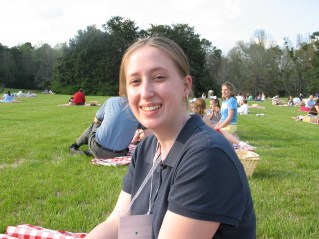 was asked to write a post about my life at home so please bear with me as I try to put it into words.
I love being at home, you can ask my dad and mom. I hate being away for more than a day. If for some strange reason I have to be gone two days in a row, even if I'm just next door babysitting, I hate it. I have not always been this way. When I was younger I always wanted to be some where else. At a friends, grocery shopping, at my grandparents, anywhere, as long as it was not home. I had dreams of being a movie star at the age of six, those changed to dreams of being a deputy sheriff at the age of ten. Staying home or getting married and raising a family never figured in to that. My parents started attending a church where young women having a job and leaving their family was not exactly smiled upon.
My parents were working on teaching my sister and I how to be godly women. It's wonderful having parents that have this vision for you, and are teaching you how to run a home, but if your heart is not in it too, you'll end up being unhappy and discontent. Thankfully God was working in my heart, slowly turning it to my family, and the home we shared. When I was fifteen we moved out from the city to a small piece of acreage. I was moved a half hour away from all of my neighborhood friends. I cannot tell you how glad I am NOW for that move. At the time it was killing me moving from my friends, none of us were old enough to drive to each others houses (thankfully). I was forced to make friends with my siblings! My sister and I suddenly had to share a bedroom, where before we had always had our own rooms. I got to know my parents, sister, and brother better. I spent more time with them during the day, and learned many skills that were necessary to running a home through trial and error. My sister and I even got the chance to can lbs. of cherries when my mom suddenly came down sick after buying said cherries.
My sister was courted and married when I was almost seventeen. I was blessed to get to see that happen first hand. God started working in my heart during this time. Before this time I had always sworn I would NEVER marry. I neither had the patience, nor the desire to have a family. My sister and brother-in-law had their first child when I was eighteen. I was now aunt Dani! I had slowly been realizing over the years that I did want a family, I did want to be a wife and mother someday. I realized this was a role of a godly woman. So I began praying that God would show me how to be a godly young woman.
So now that I had decided that yes, this was the path I wanted to follow, why was God not sending me my prince charming? I began watching the hill, waiting for Mr.Right to ride over it on his white horse, armor just a gleaming! Hmm…God, did you not hear me? I'm ready!!!! Well the years passed, I started praying. "Hey God, I'm now as old as my sister was when she got married, don't you think it's time?" And "Well God, I'm now as old as my sister was when she had her first son, are you ready now?" Then finally. "God thank you for teaching me to be content where I am, and I'll wait on You, and Your timing." I was learning to be content, it was (and still is) hard .
I am now almost 23, sister to three, auntie to three and… content! I see so many opportunities that I would have missed if I had been married. I got the chance to help with my Memom when she was terminally ill, and lived with us until she met her Savior. I have been able to watch one of my brothers grow taller than I am (I'm not very tall), and see the other one slowly getting to my shoulder. I have had the chance to learn so many skills that I may not have been able to pursue if I were married. I have loved being able to baby-sit for my sister at any notice, and to be able to visit my great grandma every week.
I am not perfect and never will be until the day I meet my Lord and Savior face to face. There are days when I get frustrated with my brothers, days when I just want to go back to bed, but I believe God is teaching me in those days too.
I often get asked "What do you do all day?" I don't usually know how to explain that one. I often times try to tell them my average day, and they just look at me cross eyed. I've told my mom, one of these days I'm just going to say "Nothing!" And watch their reaction. I honestly have no desire to go to college. I do not believe I will learn anything there that I would not, or could not learn at home. I do not want, nor need a job. My dad has taken on the responsibility of raising me, and taking care of me until I marry. He provides food, clothing, and any other necessaries (plus some) that I need. I do take on small jobs for my neighbors, such as house sitting, baby sitting, and occasionally helping at a horse ranch around the corner all with my parents permission though. If they don't want me to do one of them, I turn it down. I usually use the money I make to buy supplies for projects and gifts for my family. My responsibilities at home take precedence though. I cannot let things slide at home just to go off to do another job somewhere else.
Another question that I get asked is, "What if you're single forever?" Okay, so I'm single forever, I'm fine with that. Sure I hope to someday be married, but if that is not what God would have for me, than I need to be content with that. "What if one day your parents are gone?" Then I pray that one of my siblings would be willing, and able to take me in. If not, I believe God will provide for me. Whether it is through another family, or my taking on a job such as being a nanny, housekeeper, or cook. He will provide for my needs.
I have no fears or worries about my future. I am daily learning to live a life that is pleasing to God, and that will hopefully show others His truths through my example. Matthew 5:16 Let your light so shine before men, that they may see your good works and glorify your Father in heaven.