I don't remember very much about my grandmother.  I called her "Grandmother".  Very formal, now that I think back on it, but I didn't seem so at the time.  She became increasingly senile from the time that I was very young, and passed away when I was only 12.  She lived in the midwest, while we lived on the west coast, so I saw her for a week or so every summer and sometimes we'd drive back for Christmas, too.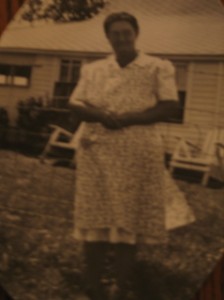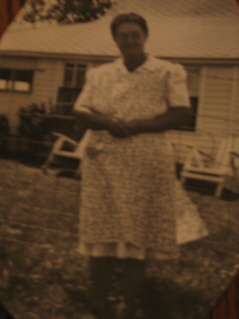 My mom, however, always made this cake for Christmas dinner.  Always.  I cannot remember her ever not making it when she was alive.  It's very rich and quite dense, but Oh, so good!!!  Mom always topped the cake with walnut halves.  You knew exactly where to cut the cake because you simply cut the slices between the walnut halves!!  I wish I had a picture of it to show you, it was always just one of those cakes that everyone would "ooooooo" and "aaahhhh" over.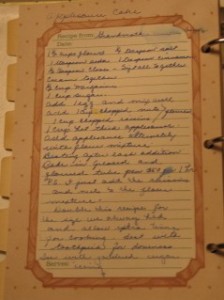 This is one of my most treasured recipes because it is written in my mom's handwriting into a "keepsake" cookbook.  You can see that I've used this recipe by the splatters and smears!
**Be sure to read the recipe through to the end for instructions on how my mom always made the cake!**
MY GRANDMOTHER'S APPLESAUCE CAKE
Sift together:
1 1/2 cups flour
1/4 teaspoon salt
1 teaspoon baking soda
1 teaspoon cinnamon
1/2 teaspoon cloves
Cream together in large mixing bowl:
1/2 cup margarine
1 cup sugar
Add 1 egg and mix well
In a small bowl mix:
1 cup chopped raisins
1 cup chopped walnuts
Mix with just a little flour so that the raisins don't stick together, and then add to the sifted flour mixture.
1 cup hot, thick applesauce
To creamed mixture, add hot applesauce alternately with flour mixture, beating after each addition.
Bake in a greased and floured tube pan at 350° for one hour.
Let cool.  Ice with powdered sugar frosting and adorn the top with walnut halves!
**Now, here's the way my mom made it every Christmas:  Double all of the ingredients.  All of 'em!  Then bake in an angel food cake pan and allow extra time for cooking.  Test with a toothpick for doneness.  This would rise up so incredibly high, it would fill the angel cake pan!**