As most of you know, there's been a lot of sewing and crafting going on at my house recently.  Most of you also know that I've only recently been able to get back into the swing of things, craft-wise and sewing-wise.  Having a place to keep things out makes it easier to keep projects going.   I am, however, slowly working my way into the 21st century.
I have just discovered the wonderful world of Rotary Cutters and Self-Healing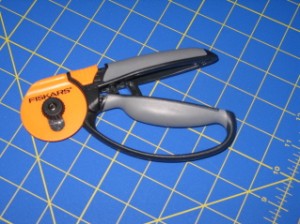 Cutting Mats.  Do you know about these things???  Why didn't you tell me?????  Oh, my word!  I was cutting out my bookmarks, one by one, and the interfacing for the bookmarks, one by one.  I was cutting out all four, count 'em four, pieces of cotton batting for each and every pot holder I was making one by one by one by one.
Hey!  With my rotary cutter and mat, I can cut out four pieces of fabric at one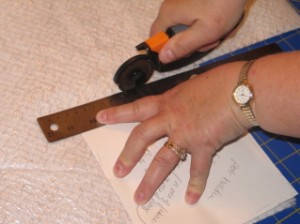 time!!!   Four pieces of interfacing at one time!!!!  Four pieces of cotton batting at…..okay, three pieces of cotton batting at one time!!!  It's so cool!!  I cannot believe the time saved in cutting out fabric, interfacing, etc.  I cut out enough materials to make four pot holders last night in about the same amount of time that I could cut out the materials to make one before.  I have to confess, cutting out is my least favorite part of any sewing project.  This makes the cutting out part almost fun.
I've also used my rotary cutter and mat to do some paper crafting projects.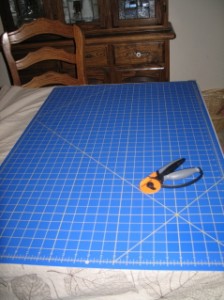 Copper used his metal engraving tool to etch "paper" onto one of my rotary cutter blades so that I would not use the paper-dulled blade on fabrics.  The cutting mat has all sorts of inch, and fraction of inch, markings and guide lines marked on it, which makes it very easy to use for paper crafting especially.  My mat is 35 inches by 25 inches, and it's a great size for me.  It fits nicely across the end of my kitchen table, which is where I do most of my cutting.
These tools are not cheap, but they are well worth the money invested.  Watch for sales at your fabric or crafts store.  Clip those Jo-Ann and/or Michael's coupons.  Buy the biggest cutting mat that you can afford, but be sure to buy the self-healing type (mine says "DuraHeal").
New-to-me-tools – A Rotary Cutter and Self-Healing Cutting Mat.  Definitely a Favorite Thing on this sewing Friday!
---

Remember to pray for Karen
http://www.welovekaren.blogspot.com/
---