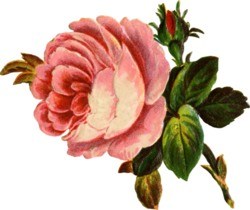 I know that I'm the one that keeps reminding everybody that it is not YET fall. In fact, I'm keeping the countdown to fall ticker at the top of my blog until it is, really and truly, autumn!  However, in my neck of the woods, September and October are the best times to plant shrubs, trees and perennials.  The plants have plenty of time to become well rooted before cold weather, and then they just take off in the spring! I've had a few projects on the back burner during the hot summer months.  After Wednesyday's very strange day, I decided that Thursday would be a grand day to just work outside with my boys.
We really have no landscaping in our backyard.  We have most of the infrastructure in (small back porch, an above ground pool, a small gravel patio near the pool, and gravel walkways), but we still need more pavers in the gravel to make our walkways navigable in bare feet.  I have the entire backyard all planned out on paper, so it's just a matter of pulling together the money for a project at the same time that there is time to do the project.  This week, those two variables, time and money, came together for me and we got TWO projects crossed off the backyard list!!
First, my boys and I worked on re-potting my front porch pots.  I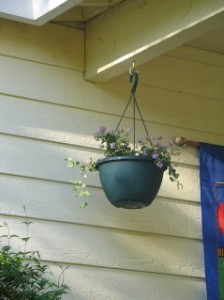 pulled down my poor, tired hanging geraniums from the front porch, and have them in my "plant hospital" until I can nurse them back to health.  They should be glorious again next spring!   I hung these pretty purple Lantana in their place.  I also decided, as I mentioned in a previous post, not to put annuals into my porch pots.  All the spent annuals and their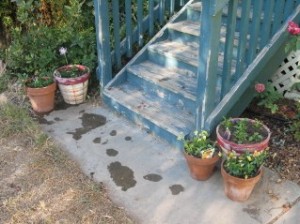 equally spent potting soil were recycled into the compost pile.  Instead of annuals, I planted the pots with Violas. I put too many into each pot, but I will divide them up next spring and then have at least twice as many pots of Violas!  I bought several different color combinations of these.  I think they are so pretty and delicate looking.
Now for the two projects!  Last spring, the 12 year old turned over the soil under the sycamore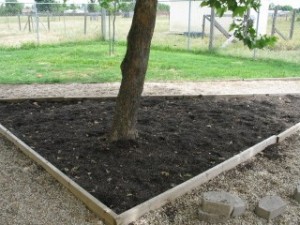 tree in the backyard. You can see the walkways that run on either side of it, forming an elongated triangle.  The triangle points at our goat pen, and the opposite edge is parallel to the back wall of my school room.  I bought bales and bales of garden soil to fill the triangle in back then, and then my dollars for the project were spent.  And so it was on hold for the summer.
Yesterday my 12 year old drilled some drainage holes in this wheelbarrow that I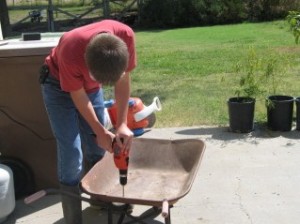 brought home from my husband's grandmother's house (a woman now almost 101 years young).  I put the wheelbarrow into the triangle in the back yard.  We then lined it with some mesh screen and filled it with potting soil.  I then planted three Lamium in the wheelbarrow.  These are so pretty, with their heart-shaped leaves.  By next summer, they should be blooming and cascading over the sides of the wheelbarrow!
Dani brought home two more bales of garden soil, and we spread one of those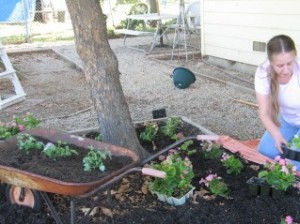 into the triangle.  We then spent the next hour setting out about 80 little fibrous begonia plants.  I wasn't sure we'd have enough to fill in nicely, but we did!!!! Good thing, because I bought the nursery out yesterday!  They look a little sparse now, but they will fill in quickly.   I wish I had taken a picture of our Harley!   Harley is a neutered male Nubian goat.  He was watching us plant those begonias and I am sure that I saw him lick his lips more than once!

I also had my12 year old take the pick
and shovel and turn over the dirt in a really yucky area next to our HVAC unit. It's always in the shade and just in sort of a back corner off the back porch.  U-u-u-gly!  He added a bale of garden soil, and raked that out evenly.  Then he took my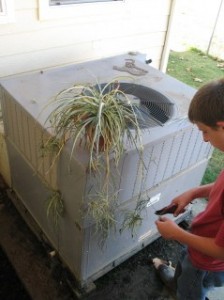 poor, abused spider plant and began delivering all of her babies.  He set the mama spider plant near the center of the area, and all the babies around her. Our air conditioner drains into this area, so the ground will stay pretty evenly moist until the babies take root and begin growing on their own.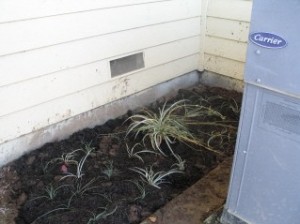 Won't this be lush in a year or so when they've all grown and filled in and begin having babies of their own??
I had one, lone white begonia mixed in with all of my pinks.  I potted it up and put it into the bottom of this hanging plant stand.  I love this stand!  It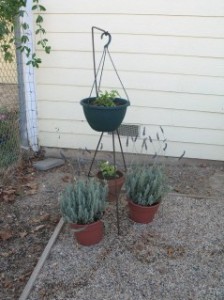 belonged to my husband's other grandmother (who will celebrate her 103rd birthday in October).  The problem is, when I've watered the plants I've had hanging from this hook, the silly thing would often topple over!  I'm hoping that having a filled clay pot in the base will help stabilize it.  I planted a tiny ivy geranium to hang from the hook, and put my two new lavender plants on either side.  I've been saving for these  lavender plants for months after being inspired by Susan who loves all things lavender!  You can see how sparse and bare my backyard landscaping is by looking behind the plant stand! We're getting there, though!  At least these pretty potted plants on the patio near the pool add some beauty to the area.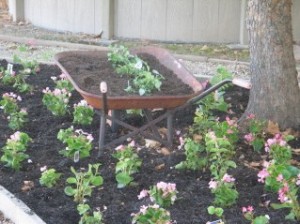 So, we now have several new potted plants at the front door, and a few more prettying up my back yard.  I also have two backyard projects (the triangle under the Sycamore tree, and the area behind the HVAC unit) crossed off the backyard landscaping list.
I'm thinking I might be able to squeeze in one more fall planting project.   My 12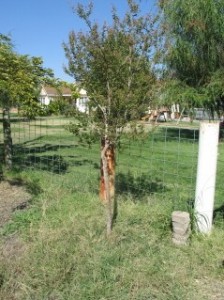 year old son is proving himself capable of handling a lot of the "manly" work for me, so if I can save up a few more dollars, I think we might pull it off.  I'm thinking about this area around the crape myrtle by my front gate…….
Fall planting time is definitely one of my favorite things!
God bless you as you look well to the ways of your household!