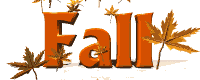 Depending on which calendar I looked at in my home, the first day of Autumn was either Friday or Saturday.  Since my official kitchen calendar said Saturday, that's the day we went with!!!  Mom's official kitchen calendar trumps the boys' calendar any day!
In any event, it is now fall!!
We've decorated our home for the season, a bit more subtly this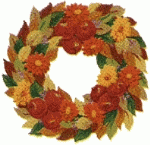 year than in the past.   I'll be sharing pictures of that as the week goes by.  We were not able to do our annual front porch fall display on Saturday because, well, my west facing porch was just too hot Saturday afternoon.  It may be fall, but temperatures here Saturday were pushing 90!!  Too hot to work directly in the afternoon sun!  We're hoping to do it later this week.
In the meantime, let's talk apples.  Apples are coming into season here, and it's time to dig out all of those yummy apple recipes.  I'll be sharing one favorite recipe  every day this week.  Bring your recipe cards and a cup of tea when you visit.
I'm also announcing a Fall Giveaway!!!
I'll be having a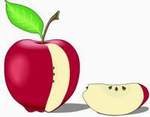 drawing on Saturday evening for one of my fall "Nora" aprons, two matching pot holders, and a couple of fall fabric bookmarks as well.  I should have a picture up tomorrow.  To be entered in the drawing here is all you need to do:  Simply post a comment under the Apple A Day – Fall  Give Away  Drawing ticker that will always, hopefully, be posted at the top of my blog.  I will enter you twice if you leave a favorite apple recipe in your comments. I know that's it's bothersome to have to join xanga to leave a comment, but it's really the only fair way I can do this.  Joining is relatively painless and easy and it is free.  And you'll be able to comment on xanga blogs!!
God bless you as you look well to the ways of your households!
---

Remember to pray for Karen
http://www.welovekaren.blogspot.com/
---