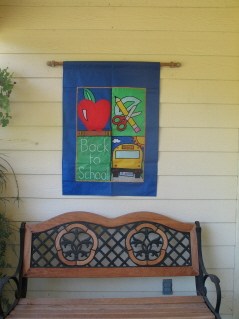 We're celebrating Labor Day in a way all our own.  Copper is at Corin's house laboring by helping her husband and father-in-love paint the exterior of their room addition.  It's not too hot here today, so that's a help.  However, last I heard, the paint spray machine was not cooperating.  Perhaps it took a holiday?
The children and I are celebrating, too, by starting our fall school term!  As mentioned here before, we do homeschool year 'round; but I divide our year into three terms of four months each.  That gives us some definition to our work. Every term brings some new studies into our homeschool – a new composer, a new artist, a new poet for each of my sons, a new foreign country and a new region of the United States.
As evidenced by the music we're currently listening to, even as I type this, we are studying the British Isles for our foreign geography this term.  England. Scotland.  Ireland.  Wales.  Every term we listen to to a selection of music from the country/countries we are studying.  I think the bagpipe music might get to me after awhile, but for now, I'm really enjoying the sound of it.  We already own a nice collection of Irish/Celtic folk music, so I've just pulled a couple of CD's from that collection to listen to this term.  I searched, in vain, for any family-friendly English traditional and/or folk music, and I found nothing at all for Wales.  If you know of any CD's of music for these areas, let me know!!!
We're also studying Mozart this term, so we'll be listening to a lot of his works as well.  My boys have always loved Mozart's music, and so do I.  I absolutely LOVE it that, after spending a term listening to one composer's music specifically, my boys will recognize that composer's work anytime they hear it. I love hearing,  "Hey, that's Vivaldi!", or,  "I know this; it's The Brandenburg Concerto by Bach!"  I don't require memorizing titles.  I don't require anything.  I just put on our current composer's music at the beginning of our school day and say something like "Remember we're studying Mozart this term, this is his music."; or I'll ask one of them to pop 25 Mozart Favorites into the CD player.  By the end of the term, they just know the music from hearing it.  They learn the names of the pieces they especially like by looking on the back of the CD cases for them.
Music is almost always playing in our home.  We have a good-sized collection of classical music CD's, and a five CD changer, so I'm able to load the CD player up first thing in the morning and just let it run throughout our school day.  With the new term just starting, we'll listen to the music from the British Isles and Mozart every day for all of the first week or so, and then we'll taper off to just once or twice a week.  On the other days, I'll just play a selection of classical music from our collection.  Later in the day, while we're working on an art project or our household chores, the music will likely be very different.  We may play music from a country we've studied in the past.  We may play some Early American folk music.  We may play hymns or a CD of praise music.  If Dani or the 12 year old choose, it's likely to be Jars of Clay!!  We might have the soundtrack from a musical playing (Les Miserables and Phantom of the Opera are current favorites, but we do have to edit some of the tracks for the boys).  It's also quite possible that you might hear the strains of Harry Connick, Jr., Ray Charles or the Rod Stewart Great American Songbook Collection.  My children are exposed to a very wide variety of music!!

If you haven't already done so, I'd like to encourage you to start building a music collection for your home.  Our collection has grown slowly, but steadily, over the years.  One way that I was able to build the classical part of our music collection was by purchasing CDs from the 25 Favorites series.  These run abou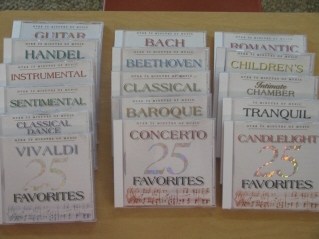 t $4.98 on Amazon.  The series includes favorites by specific composers (such as Bach, Handel, Mozart, Tchaikovsky, Vivaldi), but it also includes favorites based on type of music (classical dance, chamber, baroque, etc.) or instruments (guitar, piano). Because there are 25 pieces of music on each CD, they usually run for an hour and a quarter.  While they aren't pristine, digitally mastered-type CD's, the quality and the performances are both very good. We have been pleased with every title we've purchased from this series. Well, almost. Copper doesn't like the 25 Tranquil Favorites at all, but I find it very nice to listen to, especially on a dreary, rainy day.
Another good way to build a classical library quickly, is by looking for a boxed set collection.  My mother-in-love bought me a 10 volume set called "Classical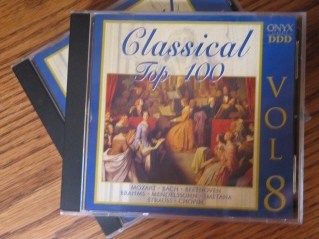 Top 100″ several years ago.  My set is long out of production, but a quick cruise of Amazon turned up several similar sets priced in the $20 – $25 range.
I also buy CD's of all types at thrift stores and garage sales.  I've only had one be scratched and unplayable.  Since I only spend $1 apiece on these, it's really not too heartbreaking that one out of about ten needed to be tossed.  Checking out CD's from the library is also a great frugal alternative.
One last thought.  If your children are reluctant to listen to classical music, you might try the Beethoven's Wig series.  There are currently three titles in this series. Now, we LOVE classical music in our home, but we really have enjoyed (and laughed our heads off) at these!!  These folks have taken well-known, very recognizable tunes, and put hysterical lyrics to them.  My all time favorite is "Stuck in the Saddle Again", which is based on Light Cavalry Overture by Suppe. My 12 year old has memorized the 1,984,362 verses (not really, it just seems like it!) of "It's the Same Every Verse", which is based on In the Hall of the Mountain King from Peer Gynt Suite by Grieg.  If you're kids are reluctant to give classical music a try, these might show them how fun it really can be to listen to!
Whatever type of music you and your family enjoy, experiment a bit.  Try some new things.  Exposing your children to a wide variety of musical types, as well as music from other countries, is fun!
God bless you as you look well to the ways of your household.