Just when I begin to think that Copper really doesn't pay much attention to my blog, he comes home and says, "You didn't post your Favorite Things Friday today.".  Hmmmm……I didn't know he was paying attention.  You know what???  It's really, really nice that he is!!
Thanks, Honey!
So, no, I didn't do my normal Favorite Things Friday post today, and I didn't do the usual Thinking Homeschool post for Thursday.  Instead, I'll double up and cover both topics with this post.
I took these pictures of my boys (or evidence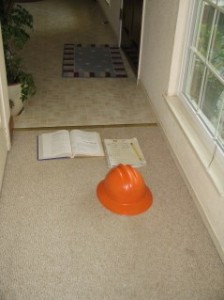 that there are boys) earlier this week while they were doing their school work.  I love my boys!!!  They can really make my laugh!!!
Apparently math was tough for the 12 year old this week.  So tough, in fact,  that it required hard hat protection!!! Oh, and why is he doing his math in the hallway in front of the front windows???  Seems this same young man had ordered something from Amazon.com with his very own, hard-earned money and was lying in wait for the UPS man!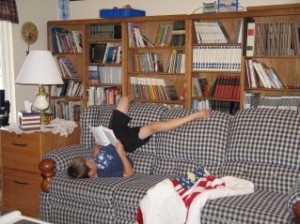 Not to be bested by his older brother, the seven year old just seems to  understand better with extra blood rushing to his brain!  Maybe he was reading about the circulatory system?  Or gravity?   Honest-to-goodness, I am so thankful that I can homeschool these boys!!  Think of what I'd be missing every day otherwise!!