It always seems as though not much is getting done  in my sewing nook during the week.  However, when I look back, I'm surprised at how much sewing and/or crafting I was able to get to in little snippets of time.  Hmmm…..15 minutes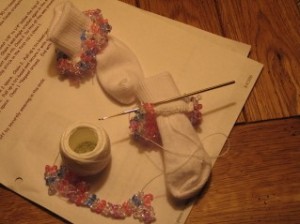 here and 15 minutes there
Here are this week's Works In Progress, as well as a couple of completed projects.
The first thing I started (and finished!!) this week were these little beaded socks  for my granddaughter.  I would normally not recommend doing beaded socks for such a little one, but Corin has trained our princess to lovingly touch "pretties" but not to pull them off.
I knew a gal years and years ago that did socks like thesefor her little girl, so I'm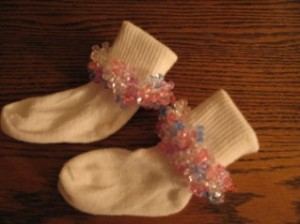 calling them the Haley Shea socks. Crocheting is really not my forte, and working with such a tiny hook (a no. 6  steel) and thin cotton (no. 10) was trying for me.  My family can attest to the fact that I uttered quite a few "dadgummit"s while working on these!!   With so many beads on the finished sock, though, my little "oopsies" aren't quite so apparent!!  These are a practice pair in anticipation of making more beaded socks for her to match the outfits I sew for her in the future.  I found the pattern here .
The next thing "finished" this week, was actually begun in July by Dani and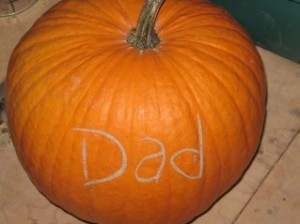 finished this week by God.   Remember this post from mid-July?  Back then, our pumpkins were just beginning to put on little, tiny, green fruits.  This week, they have begun maturing.  Dani and the 12 year old harvested the pumpkins that were carved for all five members of Corin's family so that I could deliver them today.   They also harvested a few of our own.  I'm hoping-upon-hope that all of my pumpkins mature in the next week!!!
I finished the dish towel I was struggling with completing last week.  It turned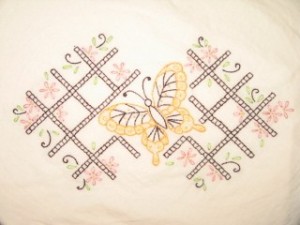 out nicely, though the colors I chose for it seem very  late 1970's to me, with all the oranges and browns.  (This picture sort of fades out the colors.)   Two dish towels are now done, with five more to finish.  I'm waiting to machine hem them all at once when I'm done with the needlework.
This is the dish towel I'm working on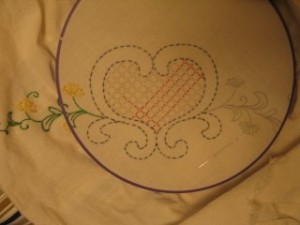 now, and I have to say I will be sorry to be done with this one!!!  I chose just four bright colors for it – red, blue, yellow and green.  The design has been fun to work and the embroidery has gone quickly.  (I should not have waited until evening to take these pictures – the colors are washed out with or without the flash – harrumph!)
One of the "gifts" I've been working on is this very cool, retro print apron for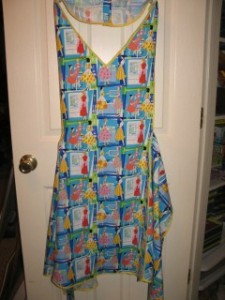 Dani's birthday.  I wasn't able to work enough on it during the times that she was away from home, so she got it gift wrapped in pieces for her birthday this week.  I started putting it together yesterday and almost finished it!  All that remains is to put together and attach the pockets and do up the neck closure.  The pattern calls for the neck closure to be done with Velcro, but I'm doing to buy some pretty bright yellow buttons and make a button/buttonhole closure instead.  This is the first apron I have made from Simplicity #4692.  It's a very pretty style, with some sweet details, like the almost scalloped hem, and the bias tape princess-type seams.  A bit more labor intensive than my Nora apron, but I like it.
After my afternoon at Corin's house today, painting the princess's bedroom, I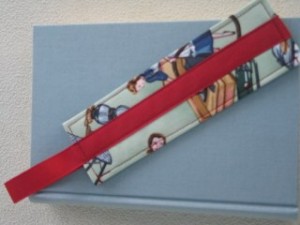 came home tired but motivated to try the fabric bookmark that's been lurking in my brain for a couple of weeks.  I've thought and thought on this thing.   How to make it stiff enough.  How to trim it, and what's sorts of trimming options there were.  How to put some sort of a "loop" on it, etc.  I had some scraps left over from another retro print that I made up awhile back, and started working with it.  I ended up with this prototype bookmark which I have to my retro girl, Dani.  It's not perfect, but it's a good starting place.  I plan to make up a few more of these in the next little bit.  Once I have the details perfected, I'll post a little "how to" for you.  They're quick and easy and a lot of fun to do. 
As you can see, I even did some experimenting with the embroidery stitches on my sewing machine after I was finished.   It's fun remembering what sorts of things I "used to do" and doing them once again!!!