Just a quick Works In Progress post today.  The Copper's Wife and her children are going to spend the day Decking the Halls With Boughs of Fally!
I started work on the fourth of eight dishtowels for Corin.  When I stamped this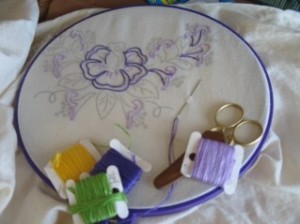 one, I did the design on it twice, along one of the long edges of the towel.  All of the others have been just stamped once into a corner.  This one will take longer, but I like it.  I'm doing the pansies in lavender and purple, with the centers and such yellow and all leaves and stems green.  I'm liking keeping the color scheme for each towel at just four colors.
The fall aprons and pot holders were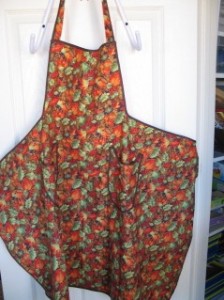 all started this week.  Corin's apron and matching potholders, with a couple of matching bookmarks thrown in for good measure were all delivered to her house yesterday.  I even ventured out a bit into some fabric & paper crafting and made a little gift card out of the fabrics used in her potholders.  That was way too much fun and my mind is already swimming with the possibilities of doing more with this.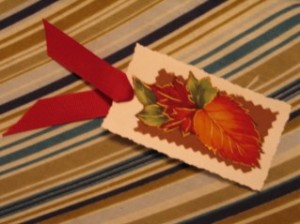 For those of you who sew and/or craft, I'm planning on a couple of little "how to's" this next week for making potholders and bookmarks.  It took me a couple of tries to get both projects like I wanted them, but I think the effort was worth it.
I also branched out into more uncharted territory this week, by trying my hand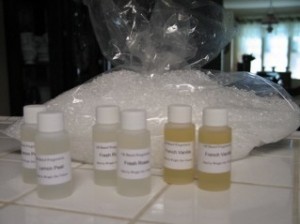 at making some different scents for my knitted sachet bags.  The lavender bags are filled with lavender seeds, of course; but I wanted to be able to do different scents for different folks.  I purchased some unscented aroma beads and some scented oils from Brighter Scents a couple of weeks ago.  I ordered 3 lbs. of unscented beads and 2 ounces each of rose, lemon and french vanilla.  Those all arrived this week.
What I learned – some of the oils are more quickly absorbed than the others.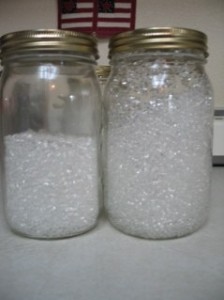 For example, 1 pound of the beads and 1 ounce of the rose oil were just about right.  However, I had to keep adding beads to both the vanilla and the  lemon oil jars in order for there to be enough beads to absorb the oil.  In fact, the lemon and french vanilla beads all had to leave the quart jars and move into two quart size jars!  Consequently, I have a lot more of the lemon scented and french vanilla scented than I do the rose.  I still have one ounce of each scent of oil left over.  The next part of this experiment is in determining how many scented beads to add with other filler to the muslin bags that go inside the knitted bags.
I did get started on one other fall apron last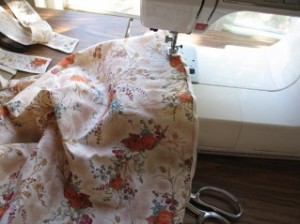 night.  I should have it finished today.  Who is this one for???  I'm not telling, because I don't know yet.  It will be for one of you, though!
God bless you as you look well to the ways of your households.
Remember to pray for Karen
http://www.welovekaren.blogspot.com/
---