Lots of projects finished this week!!  Yahoo!!!  I still have plenty of Works In Progress, though, too.  I think the WIPs will remain in constant supply until almost Christmas.  That's a good thing!  Proverbs 31 tells us that the excellent wife "eats not the bread of idleness".  So in my striving to be a better wife, I'm finding joy in keeping busy.
The Nora apron, matching pot holders and bookmarks for the drawing are all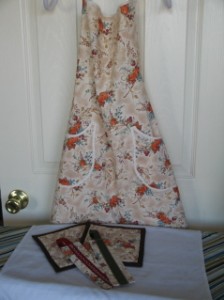 finished and ready to go.  The twelve year old chose the two bookmarks to be given away.  All that's needed now is to draw the winner this evening.  My sewing is by no means professional, or "refreshional" as my seven year old would say; but I'm hoping that the winner of the drawing will be pleased with her prize.
In working through the pot holder post, I ended up making a total of eight potholders, two for Corin, four for my kitchen, and two for the drawing.  I really do like the size of the potholders, and I'm so glad to have discovered a way to make homemade pot holders that actually protect your hands from hot dishes!
I've also made a total, I think, of about eight bookmarks.  Some of these are now
in our family stash, and some have been set aside for possible gift giving.
I found some wonderful birthday candle fabric last week.  I couldn't resist buying it.  I usually try to buy books as birthday gifts for children, and thought that making a bookmark to go with each book would be fun!  I bought some lime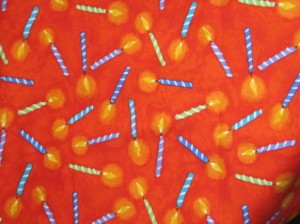 green grosgrain ribbon to use, but I'm going to keep my eyes open for striped and dotted ribbons with these colors as well.  Too fun!!  One day soon I plan to just cut the whole piece out into the rectangles for the bookmarks, along with the interfacing, and then start working them up as I find pretty ribbons and such.  I'll wait to do the final stitching on several so that I can, possibly, personalize them for the birthday child with their name in machine embroider.  We'll see.
On the knitting front, I've finished knitting several of the lavender sachet bags, and actually made one muslin bag, filled it with the lavender seeds and gave it to a friend as a gift this week.  All of the other knitted sachets are knitted, but not put together yet.  One yellow bag, for lemon scented sachet filling, has been completed; and one lovely vanilla colored bag is 3/4 complete and will be filled with french vanilla scent.
Poor Dani! Her birthday apron and matching pot holders were put on the back burner while I worked on Corin's things and then the things for the drawing.  I have no idea why Simplicity would have done such a lovely retro pattern and then have the neck closed with Velcro.  Ugh.  Buttons!!  I'm telling you, buttons!!  Anyway, the bright yellow buttons have been purchased, as well as bright yellow cotton for the back side of her pot holders and those will be at the top of the sewing list this week.
I did want to show you how my little sewing nook has changed.  The shelves are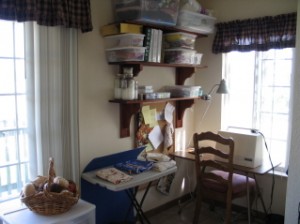 filling, to the point that some of the crafting books have already had to be relocated.
When I had the twelve year old hang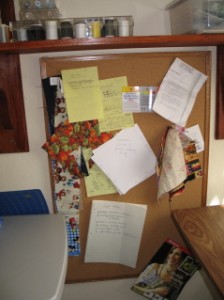 this cork board just to the side of my sewing machine, I knew it would be handy.  I just had no idea how much I would use it!!  I use it to tack up pattern pieces as I remove them from the fabri.  I use it to tack up the pattern instructions so that all I need to do is glance to my left to read the next step.  I use it to tack up swatches of fabrics.  I use it to tack up notes about projects I'm working on, as well as the list of projects that I'd like to try.  And for some strange reason, homeschooling mom that I am, my HSLDA membership card is tacked up there, too.  I haven't quite figured out why that landed on the cork board, but there it is and there it will likely stay.
I paid the twelve year old yesterday to clean up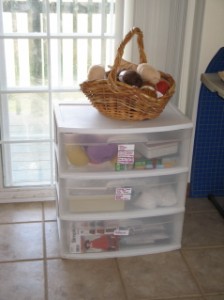 these drawers that have been out in our feed barn for the last year or so.  The goat hoof trimmers and assorted syringes and such can just find their home on the shelf out there.  These drawers were just the thing to help me organize some of the odds and ends, my patterns, and my knitting and embroidery supplies.  I've left the fall colored yarns out in the basket so that I can enjoy their lovely colors!