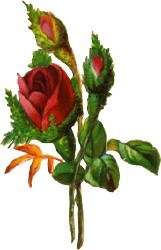 I've always read aloud to my children, but NEVER as much as I would have liked to or as much as I should have.  A couple of years ago, I had the pleasure of attending a workshop (*) given by the homeschooling mom of (then) six little ones.  I was re-inspired to not only continue reading aloud to my children, but to be more diligent in doing so and to pick up the pace a bit.  After all, if a mother with six young ones was able to find the time, I should be able to with just two boys, right?
I came home from that workshop and we began, right away, to have read-aloud times with our children.  Copper maintained his bedtime reading with the boys, and I began again, in earnest, to have a first-thing-in-the-morning read-aloud time with my boys.  We read several missionary biographies that summer and into the following school year.  We were lovin' it!
So we began a third read-aloud time during the day.  We called it "tea time". The 12 year old would brew me some tea, and either make some tea for himself and his brother or some instant hot cider.  We would gather some cookies or other little goodies and then gather together for our reading time.  I would usually read one picture book (and yes, the older boy enjoyed those as much as his little brother), and then a chapter from a children's classic, or a book from the Lamplighter collection.
A lot has happened since I attended that workshop.  Not only has that neat homeschool mom given birth to her seventh child, but Copper and I began attending the same church as she and her family, and we have now become friends!!
I'd like to say that I've kept up with the three read aloud times all along, but I haven't.  But the nice thing is, I can always begin again.  And so, with starting our new school term this week, we have begun again.  I've changed the read-aloud schedule a bit.  We now have our morning reading time late in the morning.  Math is done.  Writing is done.  The boys grab a healthy snack and then I read aloud.  I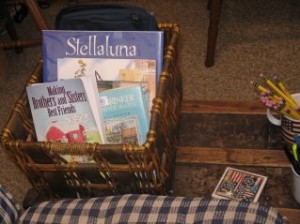 plan on keeping the morning reading time geared toward character or religious education.  Right now we're reading  Making Brothers and Sisters Best Friends, by Sarah, Stephen and Grace Mally.  I plan on reading Stories of the Covenentars in Scotland next, followed by Stories of the Huguenots in France and Italy.
We're also back to having our tea time.  This comes around 2:30, which is the end of our school day.  Since the weather here is still pretty warm, we may have iced tea occasionally instead of hot.  I'm planning on making up some treats just for our tea time so that it will be extra special!  I'm thinking scones, muffins, that sort of thing.  At tea time, we still read one picture book and one chapter from a children's classic.  I thought that the 12 year old might have outgrown enjoying the picture books this time around, but I caught him, more than once, leaning over to look at the pictures this afternoon as I read Thy Friend, Obadiah.
Our current chapter book is Hans Brinker or The Silver Skates, by Mary Mapes Dodge. I have found that once we really get into a book, the chant of, "one more chapter, one more chapter" comes more and more frequently!  Our tea time marks the end of our school time, and gives the boys a pleasant break, and a snack, before they start their chores and then have their free time for the day.
Since Copper has begun having his evening reading time with the boys from The Bible, rather than a chapter book, I think I might start a third read-aloud time in the evenings.   I'll wait until we have the fall time change.  By then, it will be dark before dinner, and we won't have the outdoor chores and evening play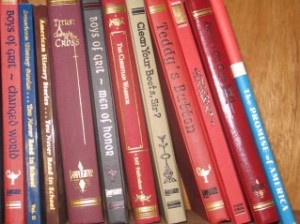 opportunities that we have now.  Copper works until mid-evening for about half  of each week, so we will have our evening read-aloud time just before he comes home on the days he is at work.  I think I'll be using books from Lamplighter Publishing for this reading time.  With Copper's schedule, we'll have the opportunity for an evening read-aloud seven evenings out of every fourteen.  That's frequently enough that we'll be able to keep up with the story.
Which reminds me – I used to think that reading to the children from more than one book at a time, would lead to them confusing the stories, or not being able to follow along.  Not so!!!  They remember and follow along just fine. And so do I, which really amazes me!!  I do not think that there is an age where your children become too old to enjoy being read to, either.  Nor are they ever too young.
For those of you that do not homeschool, you can still have some great read-aloud times with your children.  How about reading a chapter at the breakfast table in the morning?  Most children have a snack when they come home from school in the afternoon, so that would make a great read-aloud time as well.  Bedtimes, of course, are the classic read-aloud time.  What about Saturday and Sunday?  Sitting down together and reading a couple of chapters from a good book on Saturday afternoon, and/or after church on Sunday, could be a great family tradition.  And moms, don't cut Dad out of the act.  Ask him, privately, if he'd like to have a read-aloud time with the kids.  Copper read the Douglas Bond Crown and Covenant series to our boys a couple of years ago, and I laughed out loud at some of the GREAT Scottish accents coming out of that man!
Grandmas, how about you?  Find a nice, good-sized basket and fill it with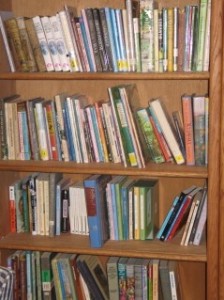 several great picture books to read-aloud when the grandkids visit.  They won't mind hearing the same ones over and over again, I promise!!  This is something I need to remember to do more often.  My grandchildren come to my house and have the benefit of young uncles to play with and this Grandma doesn't make the opportunity for reading aloud often enough.
I'll be adding a section to my left side bar for the books we are currently reading aloud.  The picture books will cycle through weekly and the chapter books as we finish them up.  I'll have the boys give the chapter books a  rating for you as we finish them!  Check there often for updates!
Reading aloud to our children (or grandchildren) is a wonderful old-fashioned pleasure that will never fall out of style!
God bless you as you look well to the ways of your households.

(*)  If you would like to order a CD copy of the same workshop that I attended, please visit www.otstudios.com then 1) click on convention services, 2) click the "choose form" drop down menu box  and select SCOPE 2006, 3) you want to order workshop #23 The Importance of Reading Aloud to Your Children by Lisa K.  Costs of the CD's is $6 + shipping.