…….that mean the most.  Like a working screen door.
This house!!  The original owner of this house had the initials P.Q. and we, quite often, will refer to our home's oddities by calling them P.Q.liar.  Phone jacks, for instance, in every single, solitary room of the house, including all three bathrooms, the garage and the back porch – P.Q.liar.
Our home also has quite a few windows and doors, which I enjoy flinging open for several months of every year to take advantage of the fresh air.  However, the cooling breezes that come our way in the summer months come out of the southwest.  There's not a single door or window that faces southwest!  P.Q.liar.
However, our big garage door does open to the southwest and so, a couple of years ago, I prevailed upon my husband to install a screen door at the entry point from our garage.  That way we could open up the big garage door and get the wonderful cool, southwest breezes in the evenings without filling the house with bugs.  Money was tight, at that particular time, so we opted for the very cheapest aluminum screen door we could find.  I think we spent around $35.00 for it.  It was supposed to be a short term fix.
Well, a couple of years later, our "cheap fix" was still in place, but, Oh!  That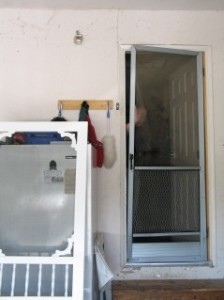 door!  You get what you pay for, right?  We got our $35.00 worth sometime in the middle of the summer of 2005, and for most of this past summer the door has been a daily source of grief.  Oh, don't get me wrong, I still very much appreciated being able to open the big garage door to enjoy the breeze, and I enjoyed having that screen there to keep the bugs out of my home; but the door was falling apart.  It would not latch.  It would stick at the bottom as we opened it and I  was sure, on multiple occasions, that I was going to go tumbling head over heels down the garage steps. It was bent on its hinges, so we had to lift it up to get it latched. The screen was pulled loose in several places.
Yesterday, Copper came home with a beautiful, absolutely gorgeous, white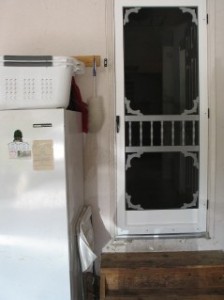 vinyl screen door.  He spent a good portion of his day off yesterday installing the new door.  It's so wonderful!  It closes, all by itself, and latches with the loveliest little "click".  The lock works, too. There are no holes or tears.  There are no places where it catches or sticks.  It opens, and closes, like a charm.  To top it all off, it's decorated with all sorts of almost Victorian looking trim.  We are now fully prepared to enjoy those southwest breezes for the last two days of summer and into the fall.  Ah, yes, those lovely, cooling southwest breezes.  Today?  Today there's a strong wind blowing.  From the north.
Thanks, my love, for replacing the screen door.  It's beautiful and I absolutely love it!
God bless you as you look well to the ways of your household.
---

Remember to pray for Karen: http://www.welovekaren.blogspot.com/
---