I love putting out my fall decorations every year.  I'm not sure if it's the fact that putting out my fall things means that there's a change in the weather just around the corner, or if it's the fact that we just get a new look for awhile.  Maybe it's a combination of both.
I did not do quite as much fall decorating this year.  I usually have several autumn garlands hanging in various places around my home, but this year I have only one garland in my entry way.
I do display my Thanksgiving figurines beginning in September.  For me, this
entire season celebrates not only the harvest of our own garden, vines and orchard, but also celebrates the successful harvest of the farmers who are our neighbors.  It's a time of remembering to be thankful to God for the bounty He provides in our lives.  These pilgrims and indians in my kitchen pass-through window, on their way to the first Thanksgiving feast, remind me daily of all that I have to give thanks for.
This pilgrim family welcomes visitors to my home.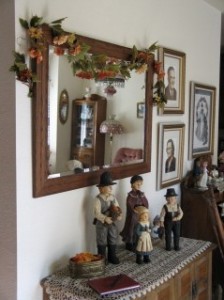 My fall mantle is filled with mini pumpkins,  squash and gourds, along with three friendly crows!  I have a bowl on the right filled with mini pumpkins and a bowl on the left filled with fall leaves.  I also have my free Hallmark pumpkin candle on the mantle this year.  I love the scent!!!  Now, I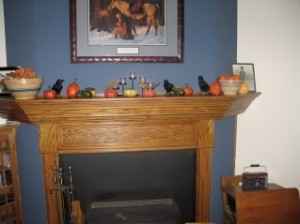 must tell you, that all the veggies and leaves on my mantle are not the real deal.  I've bought a few here and there over the years, until I have a nice collection of them that I can use, year after year.  My only new purchase this year is the tea light holder/candelabra that I found at WalMart this last Monday.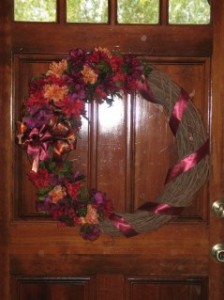 Remember the fall wreath I was planning on making?  It turned out exactly as I  had hoped!!!  It is hanging on the inside of my front door.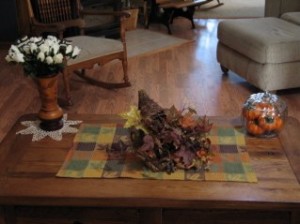 The coffee table in our living room hosts a cornucopia, along with a glass pumpkin cannister filled with, what else, little pumpkins!!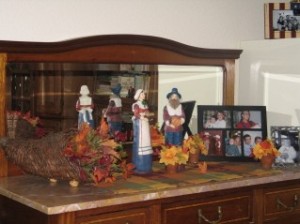 The side board in our living room displays another cornucopia, along with  another pilgrim couple, and some little pots of fall flowers.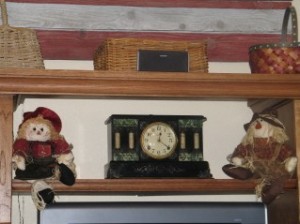 Our entertainment center holds my  little scarecrow couple.  With scarecrows this cute, it's no wonder the crows on the mantle feel right at home!!
Next to the grandfather clock are these silk mums in terra cotta pots. 
I'm not one for anything Jack-O-Lanternish, nor really a bear person.  However, the fall my dear Mother-in-Love lived with us, one of her friends sent her this little guy to cheer her during her long illness and chemotherapy.  She was so very ill.  Most of the little things that folks sent to her were displayed in her room where she could enjoy them when she was needing to lie down.  However, when I put out my fall decorations that year, she proudly brought this cute little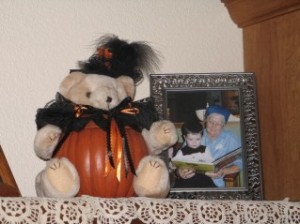 guy out and we found a nice spot for him in the living room.   Because this pumpkin bear was hers, it is very dear to me and I will put him out every year.  This year he's displayed next to one of my favorite pictures of my mother-in-love.  This picture was taken just a couple of months before she passed away.  She's reading a book to my oldest grandchild, and her first great grandchild.  My children always called her Memom, and so the great grands always referred to her as Memom the Great!
Don't forget to enter the Fall Giveaway contest under the ticker at the top of the page.  Entries close at 10:00 p.m. (pst) Saturday.
God bless you as you look well to the ways of your households!
---

Remember to pray for Karen
http://www.welovekaren.blogspot.com/
---