When I think about my favorite things, a few "big" things come to mind; but, really, it's the little things in my life that make me happy. Content.
Today I'm happy for my back being, almost, pain free.  I made it until mid-afternoon yesterday with no pain relievers, and then just took regular old Tylenol.  I just took another dose now, 20 hours later.  Oh, I'm not doing my full load of chores yet, but the basics are getting done – laundry, homeschooling, some light housework, blogging
I'm very happy to have a great chiropractor whose fees have remained very low over the years, and who almost always has a same-day appointment available.

I'm very happy to be sharing a rare Friday off with Copper (who took a vacation day so that we can attend our church's annual big-bash Reformation Day celebration this evening.).  It's always great to have my husband home!
I'm happy for the lovely fire burning in our wood stove this morning to take the chill off the house (even though the expected high temperature later today will be pushing 80!).
Yep, it's the little things in life that are the sweetest.  Don't you agree?
God bless you as you look well to the ways of your households.
Proverbs 31:27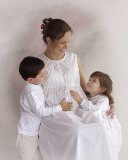 Remember to pray for Karen!
(Click the link to her site under her picture in my sidebar.)