Hello, I'm Copper's Wife, and I love the Internet.
You reply, in unison, "Hello, Copper's Wife."
Okay, it's not THAT bad.  I do love the Internet and the wonderful things I can find there…..answers to medical questions, information to answer a child's homeschooling question (What is this the shell of, Mom?), what's the weather look like for the next few days?, answers to why our sheep were dying a few years ago (Parasites!  Ugh!), and then the wonderful fellowship of like-minded Christian women and their blogs!
Until last winter, though, finding my way about the Internet was a sllllooooowww frustrating process.  I was frequently "timed out" by my provider, making me feel like an errant child.  Cries of, "Noooooooo", and "stoooooopid computer" were heard frequently around here.
We were the unwitting victims of not only dial up service, but dial up service that was connected over the very antiquated phone system in our community.  Our Internet provider was great, but our phone company was, IS, horrid!  Even though more and more homes are being built in our community, they just keep tapping everyone into the same old trunk lines and such that have been out here forever.  Honestly, there are times of the day that I don't even have a dial tone.  Usually right after the high school buses have dropped off all of the high school kids.
Ah, but last winter Copper discovered that our Internet provider was installing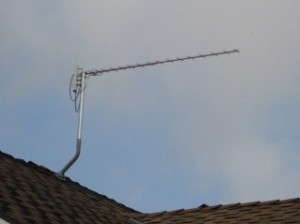 Wi Fi towers and equipment that might, just might, be able to service our area.  Phone calls were made.  Appointments were set.  The guy came out with his devices and said we had a "great" signal coming from the new tower.  And now we have this wonderful antennae that allows us to connect, instantly, to the Internet.  Our connections are never dropped (well, once in awhile when there's been a storm!).  I literally fly, fly I tell you!, about the Internet with nary a discouraging word to be heard.

High Speed Wireless Internet Service – One of my favorite things!!!
(My  phone service, however, is quite another matter.)
God bless you as you look well to the ways of your households!